Dane Buk, the brains behind Terra Firma Organics, shares his story for how the company got started and where it is going on this entry of #humansofjhchamber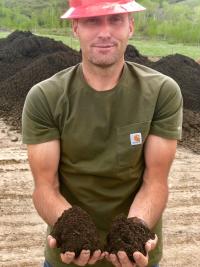 Terra Firma Organics has a delightfully simple business model: take organic waste and make it into products that helps your lawn and garden grow. It's that simple. "This method of recycling keeps thousands of pounds of waste out of our local landfills and turns it into something that improves the region's soil, air, and water quality."
Dane Buk, founder, owner, head inspiration, worker bee, enthusiast, cheerleader, father etc. of Terra Firma Organics spent a couple hours giving Chamber staff a tour, in depth explanations and insight into how the company got started, how it is working today, and what impacts it hopefully will have on the future. Rarely does enthusiasm drip from an individual like it did (does) from Buk.
Terra Firma is not Buk's first business endeavor. In fact, he's had multiple prior to the birth of Terra Firma Organics, and all have been related to landscape and soil science in some form or fashion. He started his first company at the ripe age of 19 – a landscape design firm. He did everything from planting and manicuring landscapes to teaching clients how to lay out their landscape design. His father, an agriculturalist, and dean of the College of Agriculture in Nevada has been a mentor in each of his businesses. During the landscape design business days, Buk began to become incredibly knowledgeable about not only trees and plants, but soil as well. He became fascinated with soil science and started a research nursery in Nevada. During this business stent, Buk perfected the process to cloning aspen trees. "I'd find one I liked here in Jackson, clone it in Nevada and bring it back to Jackson. Because of the warm weather in Nevada, the growing time for the aspens took nearly a third of the time to mature than they would in Jackson.
When asked about the motivation and inspiration to start up multiple different businesses, Buk mentioned that wasn't the plan. It's just what happened. "I like to work," he said. Each business has taught me so many different things. "You know, a lot of people have really good business ideas, but get in their own way and the good idea ends up not happening. People tend to over think things. I think Nike really hit the nail on the head with the slogan, 'Just do it.' That's what you've gotta do. You just have to do it and stop thinking so much," Buk said while driving from one compost pile to the next.
In a matter of minutes, it was easy to see Buk had a skill for creating a passionate culture at Terra Firma Organics. We sat on the stairs of a wooden hut, looking east at mounds of compost in different phases of the composting process. In the 20 minutes we sat, 3 workers made a large dent in a waste pile using both their hands and machines to sort out the recycling. Each pile is sorted, piece by piece, to ensure it gets categorized correctly and cleaned of any metals or hazardous materials. For yard waste, here's how the process works: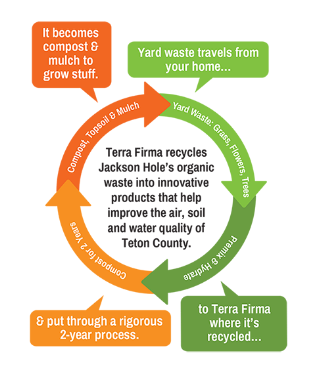 You drop recycled yard waste off at Terra Firma facility. The waste gets sorted by staff. Once sorted, the waste gets put into an incredibly fast and efficient wood grinder. The machine used to conduct this grinding process is one of the largest wood grinders in the intermountain region, being used in Idaho, Utah, Wyoming and Montana. It's used on both large and small projects and is both faster and more efficient than most other wood grinders in the country. Everything from the wood grinder then get put into a large pile. Over the next two years, the grinded wood pile turns into "compost through the activity of aerobic microorganisms. These microbes require oxygen, moisture and food in order to grow and multiply. When these resources are maintained at optimal levels, the natural decomposition process is greatly accelerated. Over the next two years, Terra Firma tests the ph levels of the compost ensuring that it is safe and environmentally beneficial to be sold.
Terra Firma offers 3 different products: Pure Element Compost, Shablams Mulch and O Horizon Topsoil. Pure Element Compost is a "superhero blend of local recycled organic waste, containing elements of trees, shrubs, branches and lawn clippings." Shablams mulch is made 100% from locally sourced wood that folks have recycled versus throwing away, saving it from being added to a landfill. O Horizon topsoil is a customized "blend of humus enriched compost and topsoil. It's tested for the right nutrient content and herbicides."
"In 2008 Terra Firma was awarded a grant from 1% for the Tetons and the Teton Conservation District to conduct a Food Waste Diversion Feasibility Study. This project was recognized as the Recycling Program of the year at the Wyoming Solid Waste and Recycling Association conference in August 2008.
Since beginning operations, we have saved Teton County 88,000  tons of organic landfill waste." – Terra Firma Organics. Buk and his team are "a group with a relentless passion for creating more efficient ways to help preserve the health and vitality of our environment."
This article has been edited for length and clarity
---
To learn more about what they do, click here.
---
This story is a part of #humansofjhchamber: The campaign places a focus on the faces of our local businesses and nonprofits. Learn about their inspirations, why they got started in their industry, and more! Find the Chamber on Instagram, @jhchamber. For information about the program, please contact Director of Membership, Elisabeth Rohrbach, elisabeth@jacksonholechamber.com or 307.201.2301
---
Written by Operations Manager, Riley Frances Boone, 307.210.2302 or rileyfrances@jacksonholechamber.com.