Emily Cohen of KHOL, Jackson Hole Community Radio, a multi-career woman shares her story for #humansofjhchamber
We recently met with Emily Cohen, the new executive director at KHOL, Jackson Hole Community Radio. Originally from Washington D.C., Emily has had varied career path, having previously worked at the nonprofit record label Smithsonian Folkways, as a city planner and as a teacher in the Rio Grand Valley on the US-Mexico border.
Since coming on board in June 2019, Emily has been making massive strides to take the station and programming to the next level.
While music discovery is still at the heart of KHOL's mission, the station is expanding its newsroom to better cover the untold stories and alternative angles here in the Tetons. With only one newspaper now in Jackson, Emily says, "the need for alternative news has never been greater."
When asked to explain one of her visions for a local program or story, Emily was quick to respond.
"Ultimately we want to be a station that connects the community to each other -- and connects Jackson to the broader world."
We're expanding our podcasts and "news and views" programming. Some great programs we've added include Yonder Lies, which explores the "myths" of Jackson Hole. This show airs every Sunday at 12:30 pm. Recent episodes explored the founding of Grand Teton National Park, the region's indigenous history, and the conflict between sheep and goats in the Park.
Other specialty shows include The Fine Line, produced by Teton County Search and Rescue. The podcasts tells real stories of adventure, risk and rescue in the backcountry.  And then there's Opera for Everyone – where every Sunday from 9 – 11 am host Pat Wright and a guest go behind the scenes of a different opera, making the artform accessible for the masses. Opera for Everyone has thousands of listeners from all over the world!
KHOL also recently joined the Rock Mountain Community Radio Network, a collective of the regional nonprofit and community radio stations here in the west. It serves as a news bureau of sorts, so we can share relevant coverage from other radio stations. We've recently broadcast stories on the privatization of the National Parks and how climate change is affecting other communities in the west."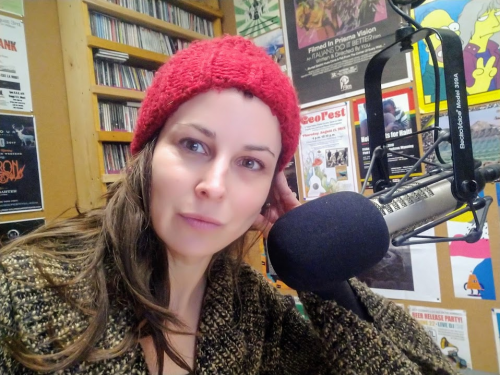 How can people get involved in KHOL?
We always need help behind the scenes, and volunteers are always welcome. We hold quarterly trainings to learn how to be an on-air DJ. We also love to welcome new members!
How can you listen to KHOL?
You can stream KHOL online at 891khol.org, listen the old fashioned way when in town at 89.1 FM, or listen on your phone via the Radio FM or Tune-in Radio apps.
---
To learn more about the artistic community in Jackson Hole visit our Arts & Culture page.
This story is a part of #humansofjhchamber campaign that shares the faces behind our local businesses and nonprofits. Learn about their inspirations, why they started in their industry, and more! Find the Chamber on Instagram, @jhchamber. For information about the program, please contact Director of Membership, Elisabeth Rohrbach, elisabeth@jacksonholechamber.com or 307.201.2301.