Story Clark, founder and CEO of TravelStorysGPS, shares her story on this week's entry of #humansofjhchamber. Plus, check out their new tours in Mandarin!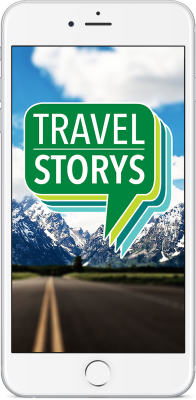 Story grew up in New York City and her grandfather had come out to Jackson in 1923. He fell in love with it (we can relate) and bought and homesteaded a place right under the Grand Teton. Thanks to her grandfather, her family has always had ties here for many years. "I first visited him in 1964 and just fell in love with the place and decided I had to figure out a way, even though I was very young, to get back out here" Story said. After college, she went to Washington DC and worked as a lobbyist and from there came to Jackson because her boyfriend happened to be living here at the time—her plans of coming back had worked out after all.
When she moved to Jackson, she talks about the struggles she had to deal with that some people face here today. "There wasn't a lot of good work here. Interesting work. But I was very, very lucky. I landed a job with Teton county and the planning office as a county planner. I did that for several years and eventually became the founding director of the Jackson Hole Conservation Alliance." Pretty impressive, right? Story even went on to work for the Jackson Hole Land Trust as one of their leaders and soon felt that in her roles they were missing the boat by only talking to a very small audience and that if they wanted to reach a larger one, they would have to get on the tool that everybody's using—the smartphone. "Even eight years ago, it was definitely coming to everybody's pocket and so I had a consulting business that I ran for several years. I tried to get my clients to build an app to really expand their audience, but no one was capitalizing on that, so I decided that I was going to do it myself" said Story.
Being the self-starter and go-getter that she is, Story hired a developer to build her demo, got patents figured out and created a business model. So where did the idea for TravelStorysGPS come from?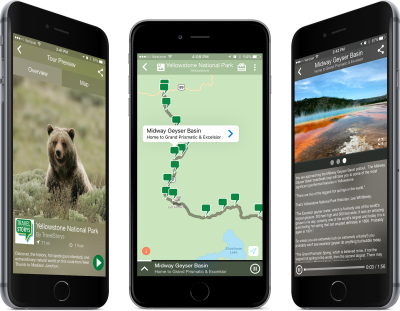 She was working with one of her consulting clients along the Blue Ridge Parkway and was standing on the side of the road watching cars and motorcycles go by.  They were just cruising along through one of the most beautiful National Parks in the United States not stopping, not looking, not seeing where they were. She realized right then and there that she had to get into those vehicles—she had to get into the headphones on the motorcycles and into the cars. Storytelling was going to be used as an interpretation tool that would be super accessible where you could hear about what you see without ever looking at your phone. "The idea really is you're physically there, your eyes are looking, and you're learning at the same time" said Story. Today, where it's so dangerous to text while you're driving and look at your cell phone, this audio tool would be a game changer for everyone.
What do you envision for the tool's future?
"We really envision a world where you have a map of the United States and there are little stories absolutely everywhere and they're authentic. They're told by local people, they're told in their accents, and they are very local stories. It's like having a friend in every town that you go to tells you the special thing that you can't hear on the radio or on Wikipedia."
TravelStorys is in 46 states and has about 125-130 tours.
Collaborations! The Wind River Indian Reservation is currently collaborating with TravelStorys in building a tour. For the last two years, Story has been trying to find a way to tell the story of the reservation, both in terms of just travel enrichment, but also economic development. They are also pairing with other schools where students will actually create the content for the tours. The collaborations are endless and Story plans on coming up with new ways to share this country's stories.
Any advice for those having troubles staying in Jackson making a living who want to be entrepreneurs?
"It's tough", she says. "I think the community needs to recognize if it wants to continue to be a vital place. The Tetons are always going to be amazing, but if we want to have that foreground, be as beautiful as it is, we really need to be careful about sprawling with the growth that we need to have." What she says is really hard is to have the staying power—because it takes a while for your product to catch on. A few years back, when she told a very successful entrepreneur that she really wanted to be serious about this business, he said: "you're going to work harder than you've ever worked in your life."  How does Story reflect on that today? "I'm working very hard in my life and I've never worked this hard!"
So, to wrap up the interview, I asked Story what she is most excited for this summer:
Hiking with her dog!  She has some favorite lakes she will hit up with her dog all summer long and is looking forward to some sunshine. I have to say,  I agree with her 100%.
This blog was edited for length and clarity
---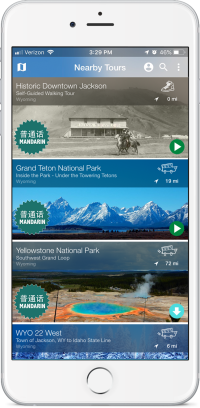 TravelStorysGPS launched three mobile audio tours in Mandarin on the TravelStorys™ app. They translated their Downtown Jackson, Grand Teton, & Yellowstone National Park self-guided audio tours, which provides Mandarin-speaking guests who visit Jackson Hole with a free resource to navigate our community and parks more safely. The tours tell stories of Jackson Hole and the National Parks and include cultural, sustainability, and resource tips to improve Chinese visitor interactions and experiences. Get the app for all tours here!
---
This story is a part of #humansofjhchamber: The campaign places a focus on the faces of our local businesses and nonprofits. Learn about their inspirations, why they got started in their industry, and more! Find the Chamber on Instagram, @jhchamber. For information about the program, please contact Director of Membership, Elisabeth Rohrbach, elisabeth@jacksonholechamber.com or 307.201.2301.
---
This blog was written by Communications Manager, Cecilie Davila, cecilie@jacksonholechamber.com