Read along as Tara Baker, Owner of Pistol in the Lupine, shares her story on #humansofjhchamber. Recognize her pieces? Tara's work is for sale at Penny Lane Cooperative!
As interesting and complex as her jewelry creations, Indiana native - now Jackson resident -Tara Baker has known since age three she would become an artist. Today she is a business owner and entrepreneur of Pistol in the Lupine, a jewelry company where she alone produces each piece by hand. In her quest for each piece to be unique, Tara searches for up-cycled materials collected in the Snake River valley and surrounding areas and considers the outdoors as an inspiration for everything she creates.
A former Wild land Firefighter and EMT in the Southwest and Rocky Mountain regions for more than six years, Tara has since incrementally honed her skills after discovering her passion for silversmithing while taking a class at the Art Association of Jackson Hole for fun. When asked why the artistry of silver spoke to her more clearly than charcoal, acrylic, woodworking and leather; she said "Silversmithing, like all art mediums is tedious, detail-oriented and time-consuming. The approach to working with metal is interesting – sometimes it can even fight back! The process of using very harsh elements of fire, metal and stone leads to an authentic piece of refined beauty."
The business name Pistol in the Lupine - with the creative play on words - creates an embodiment of what Tara is trying to achieve with her pieces – a little western, a little feminine and overflowing with inspiration from the natural beauty of the outdoors to create awe-inspiring works of art. Tara's passion for Silversmithing also carries personal meaning by way of a special crazy lace agate stone she wears in a ring of her own creation – one she relies on to this day for inspiration.  This personal inspiration lends to the true authenticity of each new piece created for Pistol in the Lupine. You can find Tara at the Art Association of Jackson Hole teaching classes in the foundations of silversmithing - sawing, soldering, finishing, forming circles and polishing.
Watch for Tara's posts on Instagram while she finishes her home studio that is coming along beautifully and is due to open soon!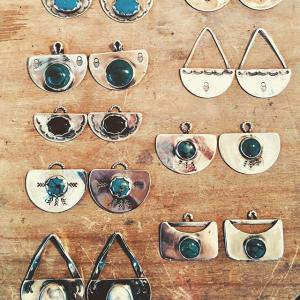 This blog was edited for length and clarity
---
To see Tara's jewelry, click here.
---
This story is a part of #humansofjhchamber: The campaign places a focus on the faces of our local businesses and nonprofits. Learn about their inspirations, why they got started in their industry, and more! Find the Chamber on Instagram, @jhchamber. For information about the program, please contact Director of Membership, Elisabeth Rohrbach, elisabeth@jacksonholechamber.com or 307.201.2301.
---
This blog was written by Membership Coordinator, Joni Moffett, joni@jacksonholechamber.com