Vince Lovejoy and Joe Serre share the story of Energy 1 and how they're bringing renewable energy to Jackson on this week's entry of #humansofjhchamber!
Joe Serre, a Mechanical Engineer, was the first employee at Energy 1's Jackson location, followed recently by Vince Lovejoy, Senior Project Manager. You've likely noticed their office building on the highway coming into town, now also apartment spaces. Imagine those views!
"WE DO FULL ENGINEERING FOR MECHANICAL, ELECTRICAL AND PLUMBING SYSTEMS, AS WELL AS FULL INSTALLATION OF THOSE. SO, WE'RE AN ALL IN-HOUSE DESIGN/BUILD COMPANY FOR HEATING, MECHANICAL, PLUMBING AND ELECTRICAL SYSTEMS. WE ALSO DO OXYGEN SYSTEMS, AS WELL AS OUR SPECIALTY, GEOTHERMAL SYSTEMS."
For those of you who don't know how geothermal systems work (how could you not?!) they use water and a compression system to heat everything through your house. This requires a third of the energy that straight electricity does to heat your home. Renewable energy was Energy 1's main focus at first when it took off in the Rocky Mountain West, especially in ski communities where the climate requires sustainable heating and it's clear that renewable energy resources are still at the forefront of their minds.
Based in Bozeman, they came to Jackson by word of mouth, primarily. Architects from Jackson Hole asked them to assist on design work, which overflowed into the build aspect. They quickly realised that the high-end custom homes that they specialize in, in Montana - Big Sky area, are also prevalent in Jackson. It became clear that they brought something new and different to town in terms of renewable energies. Particularly in these areas, where many homeowners are coming from big cities where they're used to being given renewable options, they saw the importance of offering the same product here, in an environment that both requires and provides these resources.
---

---
Surprisingly, even homes with budgets around the $30million range, mechanical heating systems are low on the priority list, with more thought going into plumbing for example, but heating systems can make or break how a home feels. I think everyone in this kind of climate can relate to that; a warm and well insulated building is critical to make a house a home. This is particularly important in homes that are almost commercial in scale, nobody wants to wait five hours for their house to warm up those crucial degrees on a frosty morning. Additionally, with projects in this budget range, many people might see larger upfront expense, but when it comes to return on investment, I learn that their projects can see paybacks between 0 and 10 years. Given that these homes are built to last at least 50+ years, that sounds good to me.
Energy 1 is a team of experienced employees. As you can imagine, there are so many tiny details that go into these builds, Vince really has his work cut out for him. He admits "there is a high level of coordination that happens, but it's not a difficult coordination. Everybody's so well-versed in having those conversations and the people in the team are very intelligent, which helps a lot." This really attests to the benefits of having everything; design and build inhouse.
"WE HAVE A LOT OF EXPERIENCE THAT CAME FROM OUTSIDE ENERGY 1, BUT MOST OF OUR CORE GUYS WERE BUILT BY ENERGY 1.  I LIKE THE WAY THAT THEY THINK ABOUT THESE SYSTEMS AND DESIGNS... THEY HAVE A VERY INTERESTING BACKGROUND, A BACKGROUND A LOT OF ENGINEERS DON'T HAVE."
They shared an interesting project with me, where a homeowner was having an overheating issue due to the master bedroom being right above the mechanical room. They decided to explore the option of doing geothermal. "It was an interesting scenario. We ended up putting a pond in so now they have this beautiful pond, stocked full of trout and we were able to do geothermal through the pond." The mechanical room was moved to an outside purpose built shed. The mechanics in the out-house were 3D designed so the team and homeowner knew exactly where the pieces of equipment would go ahead of time. The owner loved it, only changing only a couple things to make for an aesthetically pleasing mechanical room (back to that later)
"IT WAS A REALLY NEAT PROJECT, THE HOUSE IS RUNNING GREAT, THE RETROFIT WORKED REALLY WELL. HE HAD SOME ISSUES WITH THE EXISTING HOUSE WHERE HE WASN'T GETTING TEMPERATURES UP IN SOME OF THE BASEMENT ROOMS AND WHATNOT, SO WE WERE ABLE TO ADDRESS THOSE AT THE SAME TIME. IT WAS A FUN BUILD."
I said I'd come back to the 'aesthetically-pleasing' mechanical rooms... One client loved the color coded piping and uniformity of the heat pumps (and other technical things) so much, that he placed glass walls around it, making it a point of conversation. 3D designed projects are revolutionizing the entire building process; rarely does a homeowner get a chance to see something in a mechanical space and know exactly what it'll look like ahead of time.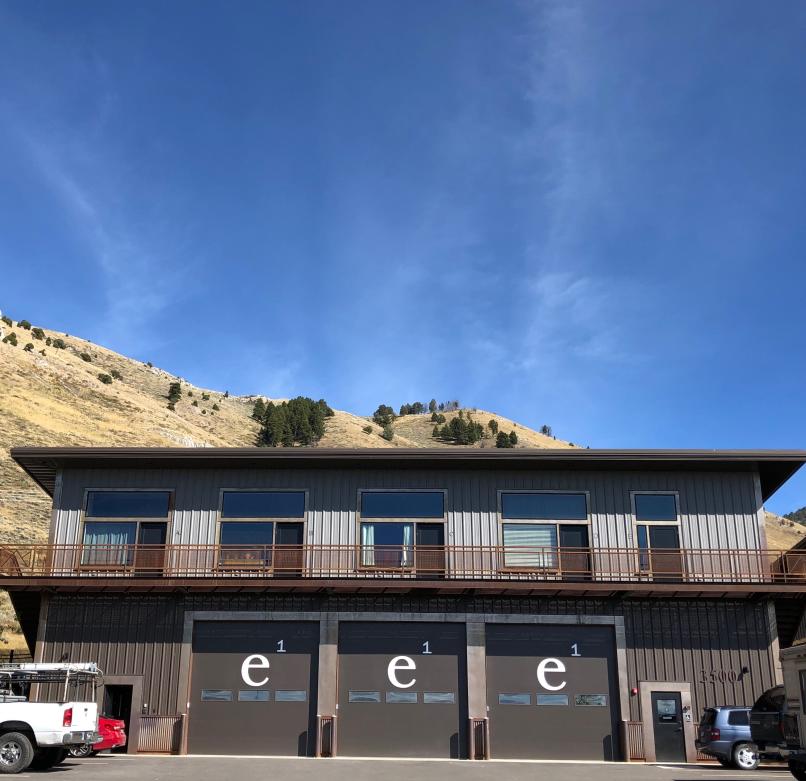 One of the more challenging tasks for Joe is taking his extensive education in Advanced Thermodynamics and condensing "such a high-level conversation into something that's digestible". I think he does a pretty good job, I didn't leave our interview too confused at least. Because this is such a dense and not widely understood field, Joe and Energy 1 want to educate their clients, so that they can make informed decisions about their projects and join the conversation on renewable energy.
---
This story is a part of #humansofjhchamber: The campaign places a focus on the faces of our local businesses and nonprofits. Learn about their inspirations, why they got started in their industry, and more! Find the Chamber on Instagram, @jhchamber. For information about the program, please contact Director of Membership, Elisabeth Rohrbach, elisabeth@jacksonholechamber.com or 307.201.2301.
---
This blog was written by Membership Coordinator, Josie Monnick, josephine@jacksonholechamber.com