Light pollution does more damage than you may think — it harms the health of humans and wildlife, drains money and energy, and destroys our ability to appreciate our beautiful night sky. Local nonprofit Wyoming Stargazing's Save Our Night Skies campaign aims to reduce light pollution and preserve the incredible skies of Jackson Hole.
Dr. Samuel Singer's love for astronomy began as a child when his dad took him to watch meteor showers and lunar eclipses. As a senior in high school, Dr. Singer built a telescope, which inspired him to pursue astronomy in college. Years later, through Wyoming Stargazing, Dr. Singer educates and inspires others to connect with the cosmos.
On clear Thursday nights, Wyoming Stargazing offers a free stargazing program at Stilson Parking Lot with telescopes and astronomy educators to tell stories about the night sky. 
"My favorite thing about astronomy is when I get to see people have aha moments," Dr. Singer said. "When they see the rings of Saturn for the first time through a telescope, or when they make a connection between something they had read about a long time ago, and something they learned about on one of our stargazing programs, and they realize, 'Oh, I get it."
Jackson Hole is known for its incredible conservation and surrounding National Parks, yet these efforts to preserve the land don't expand to the sky.
Save Our Night Skies aims to make Jackson, Teton County, and Grand Teton National Park Certified Dark Sky Communities and Parks. Dark Sky certifications are awarded to communities that make exceptional efforts to preserve the night sky. Reducing light pollution is fairly simple — "all you have to do is just put a shield on your light," Dr. Singer said, "so the light actually goes down."
You can also support the Save Our Night Skies campaign by completing THIS SURVEY. The data from the survey will provide Wyoming Stargazing with a better understanding of resident's knowledge and feelings towards light pollution.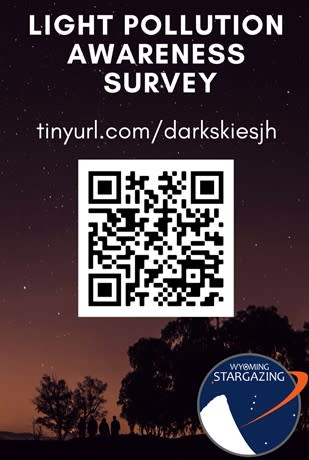 Mark your calendar for Wyoming Stargazing's Jackson Hole Lights Out Challenge on July 30th, 2022. They are marrying their Save Our Night Skies campaign with the Perseid Meteor Shower, which is considered by many to be the best meteor shower of the year.
To quote NASA, "With very fast and bright meteors, Perseids frequently leave long "wakes" of light and color behind them as they streak through Earth's atmosphere. The Perseids are one of the most plentiful showers (50-100 meteors seen per hour) and occur with warm summer nighttime weather, allowing sky watchers to easily view them."
The Jackson Hole Lights Out Challenge rallies individuals and businesses to turn off as many interior and exterior lights as possible for one hour (at least!) that night. In addition to the many benefits of less light pollution, participating will help make the already breath-taking Perseids, even more amazing!
The Chamber invites you to join Wyoming Stargazing's efforts. Like Dr. Singer said, "You make it healthier and safer for people, better for wildlife, you save money, you save energy, and you make the night sky more beautiful.What's the downside of reducing light pollution?"
---
Jackson Hole High School student Mallory Wild interviewed Dr. Singer and authored this story, which is part of our #humansofjhchamber campaign that focuses on the faces of our local businesses and nonprofits.
Learn about their inspirations, why they started in their industry and more! Find the Chamber on Instagram at @jhchamber. For information about the program, please contact info@jacksonholechamber.com.