Get ready for The Phoenix and the Dragon's new Spring Fling from April 9th to the 30th. Tuesdays through Saturdays from 5-6 pm, enjoy some of their classic dishes as small plates for just $5 as well as natural wines by the glass. Membership Director Elisabeth Rohrbach spoke with Zarina and Eric Sakai to welcome them as new Chamber members. They shared their story on this entry of #humansofjhchamber.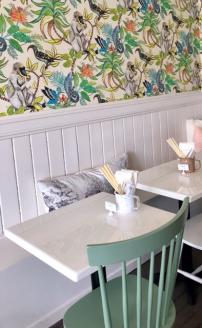 LYCHEE, LICHEE – TOMATO, TOMAHTO
We'll get back to that.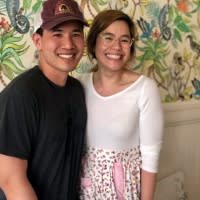 Zarina and Eric met in New York as students at the Culinary Institute of America and have worked in restaurants all over the country since then. Their first stint in Jackson was at the Four Seasons followed by running the kitchen at an upscale restaurant in Seattle. Like many people who leave Jackson, they couldn't resist coming back. They gathered quite a following having opened their space within the Whole Grocer and opened Phoenix and the Dragon on North Glenwood earlier this year.
They gave the once Lotus Café a lively makeover. The rainforest-like wallpaper is unforgettable, complete with monkeys, iguanas, and birds. Elisabeth asked Zarina about it. She and Eric worked in a restaurant in Seattle that was an old Russian teahouse that had murals on the walls. She said, "it felt comforting to have that around us." Having spent a lot of time in Hawaii and Eric being from Hawaii it is something they wanted to bring to Jackson. "We wanted to bring a little bit of an aloha vibe here," Zarina laughed. This is reflected in the music they play—a balance of hip-hop, reggae, indie, and folk. Zarina called them, "pleasant sounds…happy sounds. We're all about the happy vibe in here."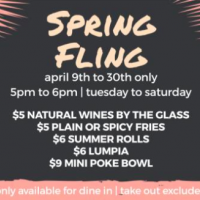 In addition to their Spring Fling, you'll have to check out their spring cocktail – the Cherry Blossom, a spring twist to the Phoenix that has the regularly mispronounced lychee fruit. And if you've yet to order the Inasal Na Manok, you're missing out. Zarina explained that it's a Pilipino dish from her father's province - roasted lemongrass-garlic chicken with fried rice & veggies.
Now, to solve this mystery, the delicious lychee is pronounced like the word 'bee' or the 'lis' in 'fleur de lis'. More phonetically 'leechee'.
This article has been edited for length and clarity 
---
This story is a part of #humansofjhchamber: The campaign places a focus on the faces of our local businesses and nonprofits. Learn about their inspirations, why they got started in their industry, and more! Find the Chamber on Instagram, @jhchamber. For information about the program, please contact Director of Membership, Elisabeth Rohrbach, elisabeth@jacksonholechamber.com or 307.201.2301.
---
This blog was written by Membership Director, Elisabeth Rohrbach