2023 JACKSON HOLE QUICKDRAW
& ART AUCTION
Presented by 

September 16, 2023, 8 am - 1 pm
Jackson Hole Town Square.
30 artists... 90 minutes... one of the most highly-anticipated live art events in the nation...
Internationally recognized Western, wildlife, and landscape artists take to the Town Square and create incredible works of art in 90-minutes.  Finished pieces go to auction, paint still wet, on the historic Jackson Hole Town Square.
 
$75 per bidder paddle
With every ticket purchase, you will receive one bidder paddle and up to two reserved seats in the auction tent. Please select either one seat or two seats when you check out so that we can accurately accommodate your party.
2023 QuickDraw Schedule
On Town Square:
8 am: Artists begin artwork
9:30: Artists finish artwork
10 am: QuickDraw auction begins
1:00 pm: QuickDraw auction finishes
Exclusive Friday Night Artist Reception:
Meet the artists of the 2023 Jackson Hole QuickDraw the night before the auction!  The QuickDraw Artist Reception, presented by ARK Sliver Gold OsmiumTM, Includes an exclusive concert and viewing of the world-famous Osmium Violin.  Fine food and drink will be served from 5 - 7 pm.  More info & ticketing information.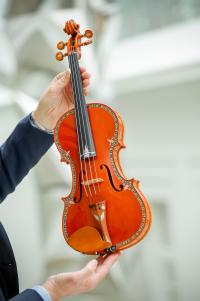 © 2023 by Osmium-Art
2023 Jackson Hole QuickDraw Artist Lineup:
A thank you to our partners
---
"To be a part of the Jackson Hole QuickDraw is a big deal. It's something artists aspire to."
-Carrie Wild, Past QuickDraw Artist

Private banking, loans, and more now available in Jackson, WY.

Long recognized as one of the premiere fine art galleries of the West, Mountain Trails Gallery proudly represents many of the most renowned contemporary and western artists of our time.

Showcasing contemporary fine art inspired by wildlife, open spaces and conservation. 

Your wealth preservation is our top priority! Visit us at the flagship Osmium showroom of north america!

The premier destination for your Fall Arts Festival visit! Stay with us just seconds away from the Fall Arts Festival events, and in the home of the 2023 featured artwork.

A must-have resource for anyone looking to build or renovate their custom dream home.

The Liquor Store of Jackson Hole has Jackson Hole's largest selection of beer, wine, liquor and accessories. Locally-owned and customer focused.
Learn more about partnering with us on Fall Arts Festival and our many other community events
---