Fireworks, Pancake Breakfast, Parade, and More!
In Jackson, locals celebrate America's birthday in the outdoors! So we're spilling some local secrets to get the most out of your holiday weekend.
Happy 4th of July from the JH Chamber!
On The Fourth

Green adventure: In-town activities. Visit Snow King Mountain Resort, loaded with activities like mini-golf, the cowboy coaster, and a gondola ride. Then catch the Jackson Hole Rodeo, a Jackson tradition that dates back to the earliest days of the community's history. 
Blue adventure: Grill at "R" Park and sight see. Rendezvous Park, between Jackson and Wilson, offers swimming, floating, hiking, and more. Local tip: bring a small grill for a 4th of July BBQ. From there, you can hit up the small town of Wilson or look for wildlife on Moose-Wilson Road.
Black Diamond adventure: Jackson Hole Mountain Resort. The Via Ferrata climbing experience, downhill mountain biking, and hiking with serious vertical gain make JHMR the perfect place for the Fourth of July adventurer. In the evening, enjoy live music and a handful of excellent dining options right in the Village.
Double Black Diamond adventure: Overnight backpacking. Teton County is loaded with secret spots and hidden gems to pitch a tent in beautiful solitude. Death Canyon and The Wind River Range are local favorites, but keep in mind that locals train and prep for months for these trips. Depending on where you go, you may have to grab a permit, and be sure to ask any questions then. And remember the ultimate backcountry motto: if you don't know, don't go.
In the parks 
Green adventure: Drive through Grand Teton National Park, entering through Moran and circling back to exit from Moose. On this drive, you'll catch all the must-sees, including picture-perfect views of the Tetons, each one more stunning than the next. Local tip: if you're looking to see wildlife, stop at Oxbow Bend and keep your eyes peeled.
Blue adventure: Hike Phelps Lake. This 7-mile loop on the Southern edge of GTNP is an easy hike with so much to see. It's almost a right of passage in Jackson to visit the jumping rock and take a leap.
Black Diamond adventure: Head over to Signal Mountain and rent a kayak to explore the shores of Jackson Lake.
Jackson Lake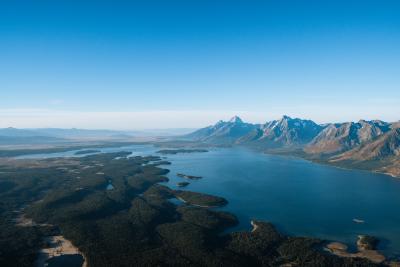 On A Porch
Green adventure: Cafe Genevieve for breakfast, Persephone for lunch, The Bird for dinner. These three are widely recognized as the best porches in the valley for outdoor dining, and for good reason. The local tip here? Be patient! They'll be busy because they're worth it.
Blue Adventure: Healthy Being for brunch, Roadhouse for happy hour, Still West for late night. These guys are a little newer to the outdoor eating game and killing it. Their spots include lawn seating off the square, rooftop seating on the square, and a lounge patio overlooking Snow King Mountain.
Black Diamond Adventure: Piste waffles at high altitude, Dornan's for pizza and beer, Stagecoach for Streetfood. Ride the gondola at JHMR for a bacon and peanut butter waffle you'll never forget. Hit Dornan's in Moose when entering or exiting the park for an adventure. And cap the day at Stagecoach in Wilson, where mountain bikers, anglers, and hikers gather outdoors after a long day.
Pro-tip for desert: Grab Haagen-Dazs on the square and bring it out Elk Refuge Road for the sunset.
Celebrate Respectfully
The ultimate local tip right now? Know before you go!
Any adventure you choose, planning ahead is absolutely necessary. Town is in its busiest season, so be sure to make a reservation (for lodging, dining, and activities). Please be patient when you arrive - with other visitors and with very busy employees. And always respect what make our town special (nature and the wildlife).
---
We know there is way more to do in and around Jackson Hole it's almost impossible to pick and choose. Check out our summer activities page to help narrow down your search.
Hiking not your ideal speed for the trails in Jackson? Try some downhill or mountain biking and take it up a gear.
Looking to chill out and catch some waves? Rent a canoe or Kayak and explore one or a few of the many waterways in Jackson.
If you're looking to get stuck in the clouds, check out our hot air balloon tours or scenic flights.
---
Blog by Communications Manager, Andrew Kruger and Brittany Magleby, Events Director.