Clothing
From haute Western couture to a simple pair of jeans, Jackson Hole has a great selection of clothing stores.
Shop Local Clothing
By shopping at Penny Lane, you'll keep it truly local. Dedicated to offering clothing that is comfortable, fashionable, and affordable, this artist cooperative never disappoints.
Western-style is on the rise, and a basic necessity in the west is undoubtedly a great pair of boots. Are you looking to cultivate that irresistible western flair for yourself? Shop Wyoming Outfitters for fashion-forward staples with a twang. Their uniquely embroidered cowboy boots are a favorite. 
Leatherwear
Jackson is home to numerous experienced leather workers. Whatever you're looking for to add that perfect Western touch to your closet, it probably comes in leather, and we have it in Jackson. Jackson's leatherworkers learn their trade from generations passed down and work with the finest of leathers. Find accessories, jackets, home goods, boots; you name it. Try Beaver Creek Hat & Leather Company on Town Square.
Custom Hats
What's a trip to Wyoming without the perfect souvenir; A custom beaver hat. Jackson is home to many skilled hat makers. Visit one of our hat stores and pick a pre-designed hat ready to wear out or have a little more say in the design and customize everything down to the material, color, band design, and branding. Try Crown and Brim or Encounter Hat Company, both on Town Square.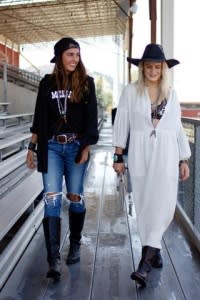 Clothing Boutiques 
Visit Habits for a unique, intimate shopping experience. The stylish boutique offers the most recent trends perfect for the likes of a fashionista. A local favorite for ladies' basics is Altitude. Find that last minute bathing suit, little black dress, or a pair of booties, just a step off the town square.
Shop unique and locally inspired apparel, jewelry, and much more at MADE. The shop, nestled in the charming Gaslight alley, is the perfect place to find piece of Jackson for yourself or a gift for that special someone. 
Outdoor Gear
Whether you're looking for gear for the slopes or the city, Stio prepares you for life outdoors. You'll stay warm but stylish in Stio, where functional outdoor gear meets a polished standard. Teton Mountaineering also has a great selection of outdoor gear and clothing suitable for any and every outdoor adventure in Jackson! 
Discover Clothing Stores in Jackson, WY: