Sleigh Rides
Enjoy the magic of horse-drawn sleigh rides through winter wonderland!
Picture this: horse-drawn sleigh and unobscured views of the Tetons all the while elk herd numbering in the thousands right before your eyes. It's all possible with the National Elk Refuge Sleigh Ride Program. With a record number of visitors last season, the sleigh ride at the National Elk refuge is one of the most popular educational programs offered. Elk refuge sleigh rides are extremely accessible and fun for the whole family. You can even book a private sleigh for friends and family.
National Elk Refuge Sleigh Rides will be available starting December 14, 2020! 
During the season, the sleigh rides typically operate from 10 a.m. to 4 p.m. from December 14 to April 3, 2021 and include all weekends and holidays except for Christmas Day. New rides depart from the Jackson Hole Visitor Center parking lot every 20 - 30 minutes between 10:00 and 4:00. Reservations are available and highly recommended during any Holiday time. The sleigh rides last approximately one hour, and accommodations for visitors with disabilities are available. 
Steps to plan your adventure
1. Purchase tickets: Get tickets at the Jackson & Greater Yellowstone Hole Visitor Center and depart from the parking lot at 532 North Cache Street.
2. Dress warm: This year blankets will not be supplied for the safety of your health. Feel free to bring your own blankets, dress warmly with winter coat, hat, gloves and boots! The Elk Refuge is unobscurred, open land, so it often feels significantly colder than weather reports due to wind.
3. Arrive Early: Arrive at the visitor center 15 minutes before your ride for a no-stress experience. 
Rates:
Adults: $27
Children ages 5-12: $15
Children 4 and under: free
Private sleigh rides available through contact. Group rates are available for parties of 20 people or more. Further information on group reservations is available below.
This year, the sleigh rides will look a little different. The health of the community and visitor's to Jackson is our number one priority. In response to this, expect the following changes and adaptations to your favorite tour this winter:
Ticket transactions and reservation check-ins will be made outside the GYVC in a portable building.
The Double H Bar will be taking walk-in ticket purchases as usual, but reservations are recommended to minimize crowding and wait times.
There will be no warm areas for gathering, so visitors should be prepared to stay in their cars or wait outside until shuttle boarding is available. Dress accordingly.
Double H Bar will not provide blankets this year though attendees are welcome to bring their own.
Masks are required unless otherwise stated.
A sleigh ride is not-to-miss! There are many other winter activities in Jackson Hole to experience like cross-country skiing, snowshoeing, or a wildlife tour.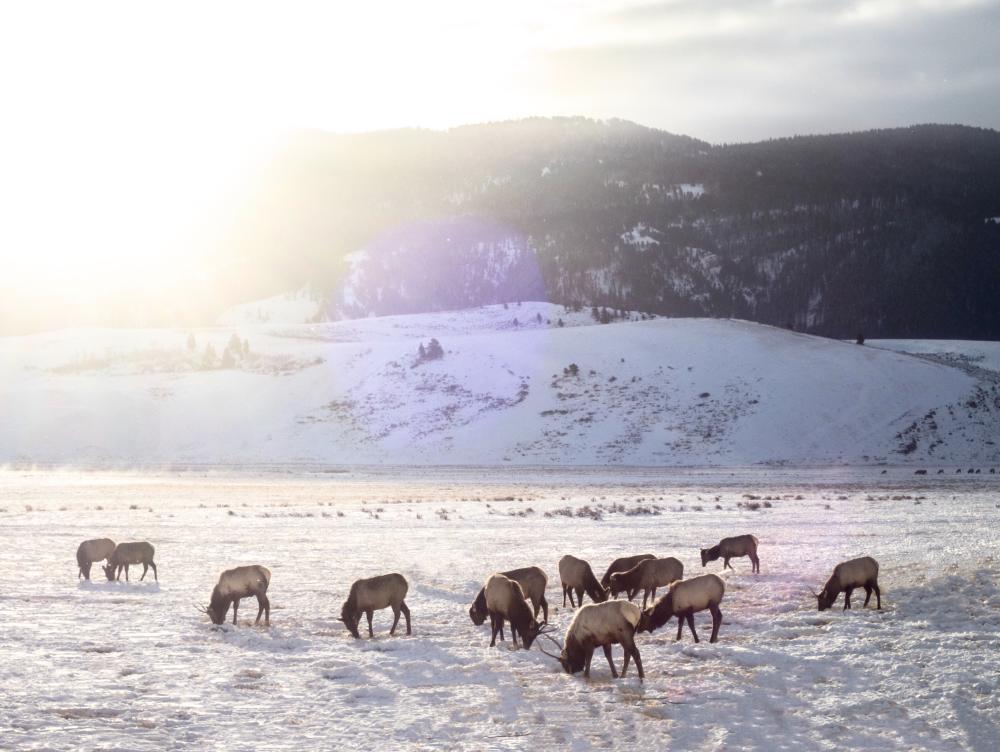 PHOTO COURTESY OF TONY CROSS. 
Contact information or to book a sleigh
The sleigh rides are operated by Double H Bar, Inc., a private contractor working with the National Elk Refuge. To inquire about a sleigh ride or make a reservation by phone, please call 307.733.0277 or 1.800.772.5386. To contact via email, please use info@bart5.com. 
Thank you to the National Elk Refuge for providing this information from their website.