Snowshoeing
Travel off of the beaten path and experience nature's beauty and serenity on snowshoes.
Snowshoeing is for everyone! Snowshoes are no longer as big as sleds. They are manageable for people of all ages and fitness levels. If you need some extra stability, a pair of ski poles will do the trick. Take a winter walk through the woods with our favorite guides at our favorite places. 
Where to Snowshoe
Snowshoes excel at reaching locations too tricky for skis—through thick trees or over uneven terrain. That makes snowshoeing the perfect tool for tracking animals through the woods and along river bottoms, or for anyone craving a little more stability in their snowsports.
Bradley and Taggart Lakes - This pair of lakes tucked hard against the Teton Range in Grand Teton National Park is ideal snowshoeing terrain. Trace a pair of loops beside either or both lakes over rolling, timber-covered hills. Follow the well-packed trails or venture into the untracked to get a close-up view of the stunning peaks all to yourself.
Cache Creek  -- Just a 10-minute drive from Jackson's Town Square, this five-mile, pet-friendly trail is an urban haven, filled with pristine winter views and wildlife encounters. The out-and-back route rises gradually for 1,200 feet and is ideal for jaunts of a half-day to a few hours.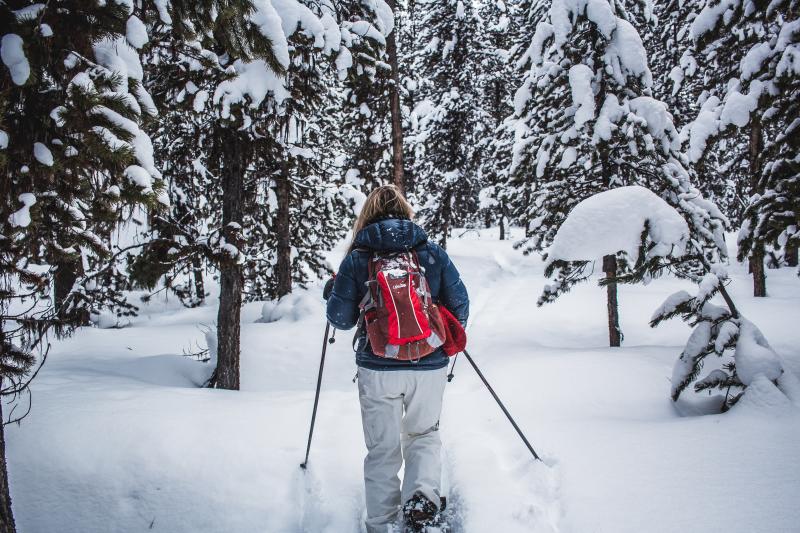 In the mood to put on a pair of skis? Try cross-country skiing to still get amazing views and an even better workout! Let these Jackson Hole businesses be your guide: