Jackson Hole Hiking & Backpacking
They say the best way to experience a landscape is at walking speed.
Hiking is one of the most intimate ways to explore nature. With your feet on the ground and the pack on your back you'll experience Yellowstone National Park and Grand Teton National Park the way the wildlife does. You'll smell the smells and take it all in.
You could live in Jackson Hole for a decade and never hike every trail in the area. Especially if visiting we encourage you to hike with a guide. Let a biologist who knows the trails, knows the wildlife and knows the plants take you on the journey. Not only will you see beautiful views and get exercise, but you'll learn a ton also! 
Please pop into one of our Visitor Centers for a trail map and a better sense of the details of each hike.
Favorite Hikes in Grand Teton National Park:
For the those looking to spend a few hours on your hike
String Lake - Nestled at the base of the Teton Mountains this hike is for those of you arriving from sea-level or are interested in more of a beginner hike with little to no elevation gain. It is 3.8 miles out and back with breath-taking views.
Jenny Lake - Known for the view from Inspiration Point this is a must-visit place in Grand Teton. Not only are there hiking trails, but you can ride a motorboat to the west bank to shorten the hike to Hidden Falls and Inspiration Point.
Colter Bay - In the northern end of the Grand Teton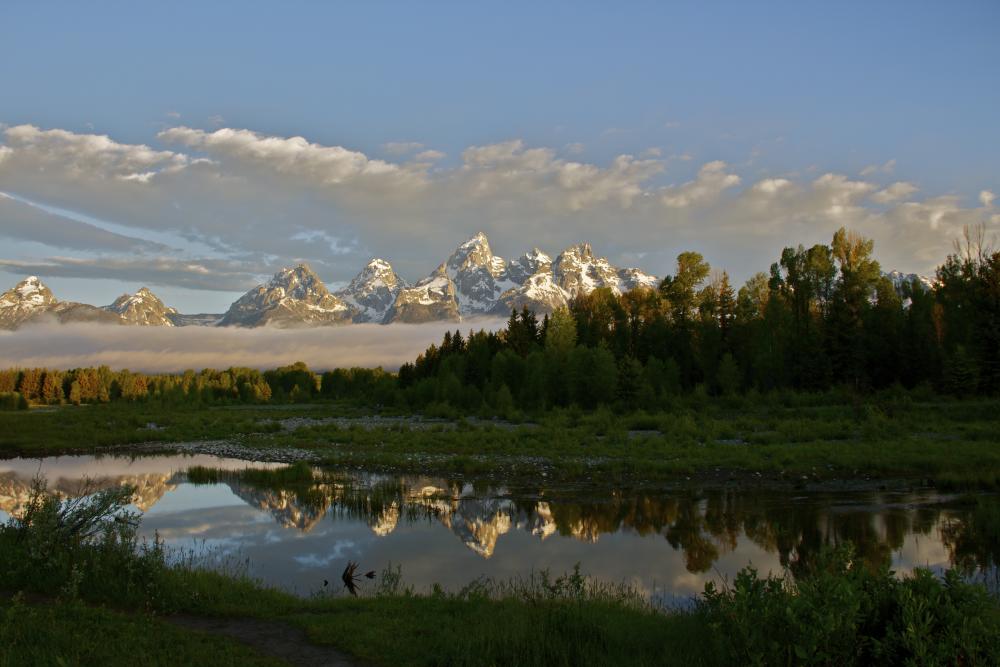 Alternatively, leave it to people born at 6,000 feet elevation, with superhero-sized lungs to recommend hikes that force you to sweat, and sweat and maybe even hurt a little. 
Amphitheater Lake - This 10.2 mile roundtrip hike, with almost 3,000 vertical feet gain in Grand Teton National Park, brings you to the banks of a subalpine lake. The hike begins at the Lupine Meadows Trailhead.
Middle Teton - One of the three famous Teton peaks in Grand Teton National Park, many would call the Middle Teton more of a climb than a hike. It is the 3rd highest peak in the mountain range that reaches over 12,000 feet in elevation.
Alaska Basin - Known for its stunning wildflowers, Alaska Basin is part of Grand Teton National Park's Teton Crest Trail sitting in a high alpine area that some say resembles Alaska. Alaska Basin can be reached from both Wyoming and Idaho.
Lake Solitude - A small lake, just .5 miles in circumference, the views are anything but that. The major peaks of the Cathedral Group in the background - Teewinot Mountain, Mount Owen and the Grand Teton. There are a few gorgeous campsites near the lake, which are accessible from trailheads at Jenny Lake and String Lake.
Gray's River Road - This is the only hike the Bagley's recommend outside of Grand Teton National Park. It's in the Bridger-Teton National Forest near Alpine, Wyoming, one hour south of Jackson. This hike may seem more like a walk in comparison to the above routes.
Hikes by Level
EASY
Ski Lake -- Looking for a dog-friendly trail? Hike the 4.5 miles to Ski Lake from the Phillips Canyon trailhead on Teton Pass between Wyoming and Idaho for views of a pretty alpine lake tucked into a mountain amphitheater. Dogs, and maybe their owners, will dig the cold plunge into the lake on a hot day.
Grand Prismatic Overlook -- The best view of Yellowstone's famous rainbow-hued Grand Prismatic Hot Spring is from a 105-foot hill accessed by a wide .6 mile long trail from Fairy Falls Trailhead. The cooler the weather, the better the colors, so get up early.
MODERATE
Phelps Lake -- The 7.2-mile trail circumnavigating Grand Teton National Park's Phelps Lake traverses land owned by the Rockefeller family until 2001. The relatively flat jaunt features sublime views up looming Death Canyon and a stop at the famous jump rock on the lake's north shore, a 25- foot plunge for hearty swimmers.
ADVANCED
Paintbrush-Cascade Canyons Loop - This 19-mile loop connecting Grand Teton National Park's Paintbrush and Cascade Canyons via 10,720-foot Paintbrush Divide may be the perfect hike, combining big mileage with smooth trails, refreshing lakes, and jaw-dropping scenery. For a more immersive experience, score a site at Holly Lake and make it an overnight.
*Pro-tip: By hiking miles away from any road you are likely to see wildlife. Birds, marmots, deer...maybe even a bear. Please be aware of your surroundings and carry bear-spray.