Jackson Hole Maps
Jackson Hole in true western spirit is in a word, vast. And with a town, a region, and a resort all carrying the name Jackson, at times, things can get confusing. 
Jackson Hole is the entire area. The hole is made up of the valley at the base of the Teton Mountain Range. The hole - or the valley - begins six miles south of Yellowstone National Park and tapers down to the width of the Snake River south of Jackson. 
Jackson is the major town within the valley, and was founded in 1894 when the post office was established. Many other holes were named in the intermountain west during the 1800's but few were marked on maps.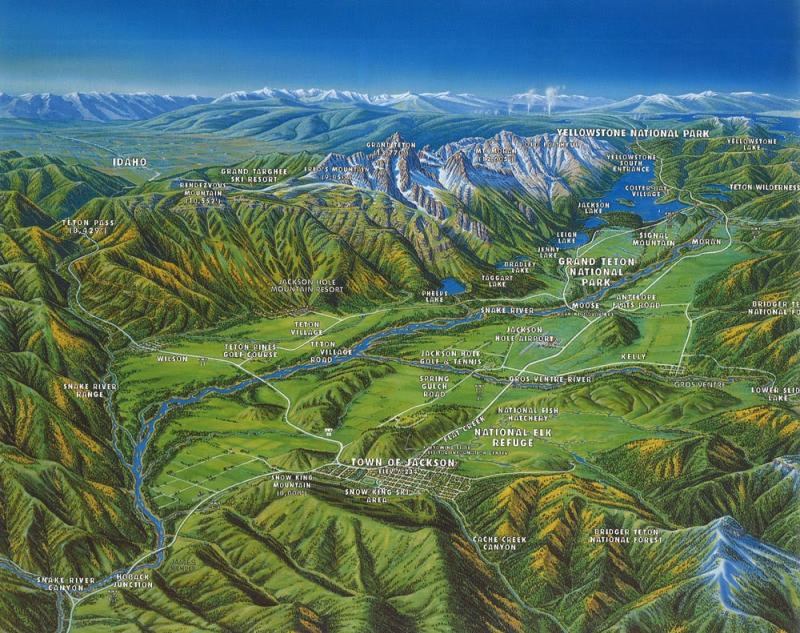 Given Jackson Hole's size, as well as that of the surrounding wilderness, different maps can serve different purposes. If you prefer print maps, please stop by one of our visitor centers - you can even speak with an agent who can share advice for your itinerary. 
To get you started–ahem, oriented–check out these great digital resources. 
Jackson Hole, Wyoming Streets: Map 
Below and in the Jackson Hole Chamber of Commerce's Travel Planner Magazine, The Explorer, which you can view online and order to be mailed to your doorstep HERE.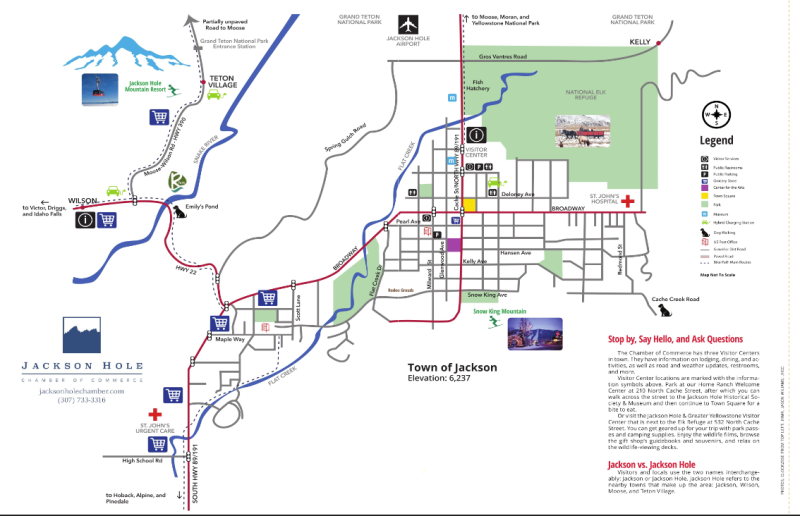 Friends of Pathways: Maps
Friends of Pathways produces a number of very useful maps that can help visitors navigate throughout the community of Jackson Hole while walking, biking, nordic skiing, trail-running, etc. Maps include: Town Pathways Map, County Pathways Map, and Nordic Pathways Map.
Bridger-Teton National Forest: Maps
Bridger-Teton National Forest provides an abundance recreation opportunities. Visit their website for the following maps: Winter Forest Recreation Map & Winter Closed Areas, Gros Ventre Area, Gros Ventre Wilderness, Cache Creek and Greater Snow King Area, Fall Creek/Munger Mountain Area, Teton Pass Area, Shadow Mountain/Ditch Creek Area, Hoback River Area (includes Granite Creek), Snake River Canyon, Snake River Range (includes Palisades Wilderness Study Area) and Willow Creek Area.
Printable Town Map
995kb PDF file: This map is in low quality and easily printable.
For information about flights, the Jackson Hole Airport, car rentals, and ground transportation, visit our Getting Here page.
---
Need more information? Explore our Explorer Magazine Travel Planner, which you can also explore electronically HERE. If you're already here, feel free to stop by one of our Visitor Centers where an experienced agent will be able to guide you in the right direction.