Take a look at this month's wellness tip – the second article in our three-part series on components of mental, physical and emotional well-being.
This week - the second week back to school - can be an overwhelming time for many. In the midst of these hectic times and finding a new routine, it can be challenging to maintain our mental and emotional well-being. What is the simplest and easiest way to improve mood?
Consciously focus on gratitude. Research has demonstrated that when we simply take the time to notice things we are thankful for, we experience more positive emotions, sleep better, have strengthened immune systems and often deepen our relationships*.  
Researchers see the social dimension of gratitude as being especially important. Robert Emmons, one of the world's leading scientific experts on the subject notes that he, "sees it as a relationship-strengthening emotion, because it requires us to see how we've been supported and affirmed by other people."
Knowing this, challenge yourself this month - tell one person (or more!) something you genuinely appreciate about them. Watch this two minute video to learn how practicing gratitude re-wires our brains for increased happiness: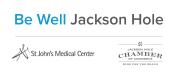 ---

September's Wellness Tip is brought to you by Be Well Jackson Hole, a collaboration between St. John's Wellness Department and the Jackson Hole Chamber of Commerce. For information, questions or to make an appointment with a Registered Dietitian/ Certified Wellness Coach, please contact Torrie Gold, St. John's Wellness Assistant, at vgold@tetonhospital.org or 307-739-7242.