Perfect Tracks By Frederick Reimers
Long before the ski lifts, Jackson Hole residents used cross-country skis to get the mail, go to the store, or visit their friends across the snowy valley. The cross-country ski tradition lives on with dozens of miles of groomed trail suitable for beginners and Olympians alike.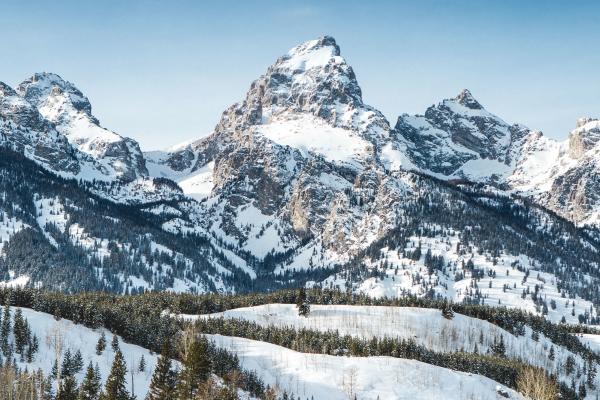 The Grand Teton. Photo Courtesy of Visit Jackson Hole
Grand Teton National Park:
Grand Teton National Park grooms 14 miles of the snow-covered Teton Park Road twice a week, creating a relatively flat, carpet-smooth track for cross-country skiers to cruise beneath the stunning ramparts of the Teton Range. Most popular is the 9-mile round trip to the frozen shores of Jenny Lake. Even more popular are the hot toddy's and bloody Mary's served up at the bar at Dornan's in Moose afterwards.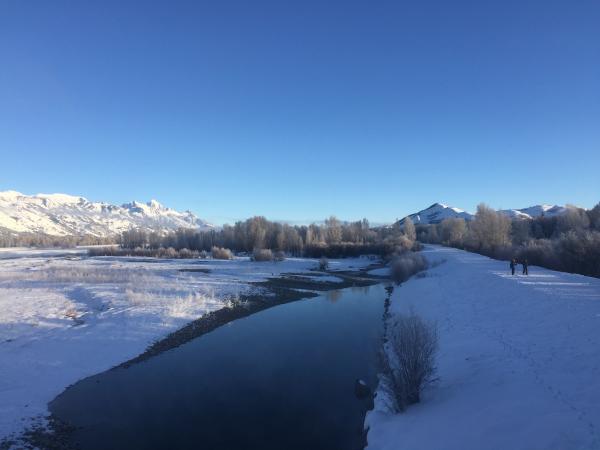 Snake River
Emily's Pond Levee Trail:
The Emily's Pond Levee Trail traverses the shore of the Snake River northeast of the Highway 22 bridge and features stunning views of the Teton Range in the background of the rushing river. The county Parks and Rec departments grooms the 2.1-mile-long tail twice weekly for a fun, mostly lvele route. The trail's most prominent feature, or obstacle depending upon your feelings, are the dozens of dogs whose owners bring them to the trail to frolic every day.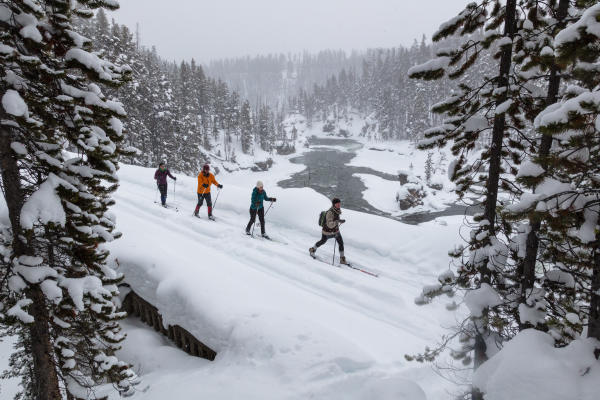 Ski in Yellowstone
Grand Canyon of the Yellowstone:
Have Yellowstone's most majestic vistas to yourself with a cross-country ski tour along the rim of the Grand Canyon of the Yellowstone. Arriving by scenic snow coach, this guided ski winds six miles past the thunderous, iced-over Upper and Lower Falls and features vertiginous views into the Canyon.
---
This article is from our 2020 edition of the Jackson Hole Explorer  The Official Guide for Grand Teton and Yellowstone. To read more stories like this tune into our #JHexplorer tab in the blog or go here to get an Explorer of your own. 
For more adventurous forms of skiing in Jackson Hole visit heli-skiing, backountry skiing, or snowcat skiing. 
Guided tours are a great way to explore Jackson, WY and the perfect opportunity to learn about the area wile you adventure.
More laid back winter activities include dog sled tours, and the National Elk Refuge Sleigh Ride. 
Explore the bounty of local restaurants in and around town. Jackson has a number of breweries, bars, and lounges. 
Find shopping inspired by the west including clothing boutiques, and art galleries.
Request one of our official trip planning guides the Jackson Hole Explorer!