Missed the Fall Business Development Luncheon? Learn about Town Updates affecting local businesses, the Chamber's Winter Windfall Program, and "How to Simplify the hiring Process" by Job Applix here!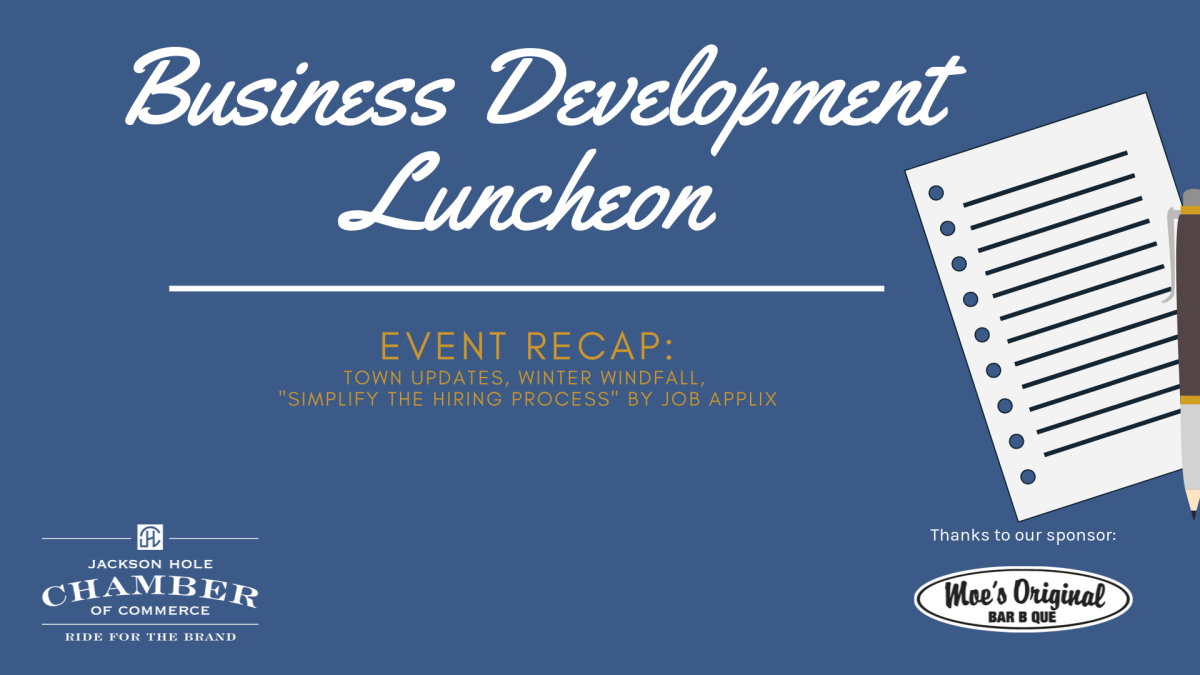 Get the quick-and-easy recap on all that was discussed at The Annual Fall Business Development Luncheon below.
Updates from the Town of Jackson:
Information on the Plastic Bag Ordinance - Phase II:
Second Phase of the Plastic Bag Ordinance begins November 2, 2019.
This phase will affect ALL retail businesses in town, and states that no plastic bags are to be given out at the point of sale that are less than 4 millileters thick. Paper bags can be sold at the point-of-sale for 20 cents, and revenue will be split quarterly with the Town.
The first phase of this ordinance took affect April 15, affecting large retails and grocery stores. The Town has seen major success with that roll-out, and are expecting the continuation to be efficient and well-recieved.
Tool kits are available here. These are designed with everything to implement this ordinance, including signage, descriptions of the program, and verbaige on how to explain the oridinance to customers.
November 4, the Town is hosting a plastic bag round-up. Businesses can bring plastic bags to Town Square, and they will be properly recycled through The Town of Jackson.
Contact The Town with questions or concerns about Phase II of the Plastic Bag Ordinance here.
Parking: View the 2019 Downtown Parking and Mobility Management Plan Powerpoint that was presented here:
2019 parking plan presented at chamber luncheon
Questions or concers? Have your voice heard by contacting the Town here, or attending a Town Council Meeting.
Notes from the Center Street Water Main Project:
Construction will start on this project in Spring 2020, and is estimated to take 8-12 weeks for completion. 
​The Town plans to complete this project in two sections, prioritizing the section of Center Street that borders Town Square.
The street will be closed to traffic while this project is underway, though walkways will remain open for business access.
The town is working with Carrie Geraci of Jackson Hole Public Art to add an artistic and interactive piece to the project. The goal is to make the construction feel approachable and encourage continued visitation to surrounding businesses.
To get in touch with the town about the project, contact the lead engineer here: Email Town Engineer, Brian Lenz. To get in touch with Carrie Geraci at Jackson Hole Public Art, email carrie@jhpublicart.org.
Jackson Hole Chamber's Winter Windfall Program:
This winter "shop local" initiative was enacted last year by The Chamber to encourage the community to shop local and to support shops and stores during a proclaimed need period: Black Friday - DEcember 18. The progam was a great success in its inaugural year, recieving praise from participating businesses, and looks to grow and expand for the 2019 season. View the Winter Windfall Presentation here:
Winter windfall 2019 presentation
Interested in participating? Contact Rick Howe at rick@jacksonhoelchamber.com.
Job Applix's "Simplify Hiring People"
Ian McGiver addresses the difficulties in hiring staff, specifically in Jackson, in his presentation below.
Hiring people business luncheon presentation
To contact Ian and learn more about this program, click here.
Thanks to the event sponsors!

Moe's is currently running off-season catering and private event specials. They're also booking holiday parties NOW! Contact David at moesoriginalbbqjh@gmail.com.

SpringHill Suites by Marriott, in downtown Jackson, is currently booking holiday events in their meeting space. They're also running a local special that includes an overnight stay with access to the Jacuzzi! More information here.