An unforgettable family adventure!
There is so much to see and do in Jackson Hole. Whether you're here with family, searching for unforgettable activities, or scoping out where the locals go, we invite you to learn more about our community and just a few of the things that make it such a special place.
As a gateway to Grand Teton and Yellowstone National Parks, Jackson Hole is surrounded by natural beauty and outdoor recreational opportunities for the young and the young at heart, no matter the season. There's no shortage of fun to be had or sites to be explored once inside the pristine national parks. Exploring with your family may include a sight-seeing road trip. To start an escapade, the visitor centers around Jackson Hole offer information and activities, not to mention restrooms! The Jackson Hole & Greater Yellowstone Visitor Center, with expansive views of the National Elk Refuge, is the perfect place to stop for a summer picnic and to stay for a visit with an onsite naturalist.
Continue your journey at the Craig Thomas Discovery and Visitor Center in Grand Teton National Park where endless activities await. Peruse modern dis- plays that explore the themes of place, people, preservation, and mountaineering. Watch the twenty-four-minute high-definition movie Grand Teton National Park: Life on the Edge. The visitor center is also a hub for your activities. Families can paddleboard on String Lake, bike ride on safe paths to Jenny Lake, hike up scenic trails, rent canoes to explore Jackson Lake, and more.
Inside Yellowstone National Park, the Old Faithful Visitor Education Center features a kids' room with a working model geyser. When planning a visit to Yellowstone, ask about the Yellowstone for Families package that includes animal tracking, geyser gazing, and more.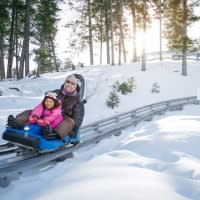 Activities Galore
Whether you're hoping to gaze at a herd of bison or hit the trails, Grand Teton and Yellowstone national parks are teeming with adventure and fun for everyone. Take a step back in history and explore Yellowstone National Park by horseback with rides beginning at the Canyon, Mammoth, and Roosevelt Corrals or take a stagecoach ride at Roosevelt Lodge. Is your little explorer a park ranger in the making? The National Park Service Junior Ranger program for kids features science, art, and history projects. Students who complete the program can receive an official Junior Ranger badge!
Next, discover wildlife and natural wonders on a guided nature tour with any of Jackson's top-tiered outfitters. Nature tours are held in all seasons, just remember to dress for the weather. When in doubt, ask your outfitter for tips. Adventures for kids, adults, and families focus on the local ecology, natural history, and spectacular views, which can be done hiking, canoeing, biking, or even flying.
Wildlife and art enthusiasts will enjoy a visit to one of our museums. An important educational center and meeting place for the Jackson Hole region, the museum is an ideal option for families with children to spend time with hands-on activities at the Kids Discovery Gallery. Let your little adventurers play, create, explore, and discover at the Jackson Hole Children's Museum where interactive, hands-on exhibits and educational pro- grams in arts and sciences abound.
Year-Round Mountain Fun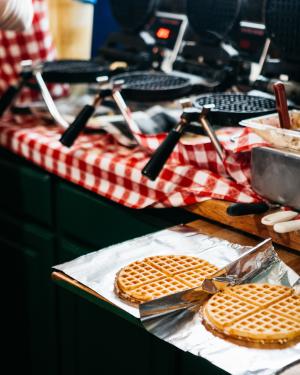 Any trip to Jackson Hole should include time in the mountains! In the summer, visitors flock to the three area resorts, Grand Targhee Resort, Jackson Hole Mountain Resort, and Snow King Resort, for cool mountain air, hiking, biking, and more. A family favorite, cruise up the face of the mountain on Jackson Hole Mountain Resort's Aerial Tram, a twelve-minute glide skyward 4,139 vertical feet. At the top, soak in the 360-degree views of the Tetons, Jackson Hole valley, and surrounding mountain ranges. The "Top of the World" provides amazing access to a plethora of great hiking and running trails, climbing, and the occasional snowball fight. Oh, and don't forget the world-famous gourmet waffles in Corbet's Cabin. Looking for thrills and even more scenic views? Via Ferrata is Jackson Hole Mountain Resort's newest outdoor adventure. Knowledgeable guides lead you on a climbing adventure through the alpine terrain at JHMR. This memorable experience takes you high above the valley floor, across suspended bridges and along granite walls.
Snow King is jampacked with fun for all. The summertime Cowboy Coaster delights and thrills. The new Treetop Adventure sends you on a Swiss Family Robinson  meets the X-Games adventure course elevated above the mountainside. Ride zip lines, shimmy over suspended bridges, scramble up nets, cross swinging logs, and even ride an aerial skateboard. Kids and adults' courses are available.
Over Teton Pass on the west side of the Tetons, Grand Targhee Resort offers biking enthusiasts more than seventy miles of multi-use trails for every style of rider. Bike, horseback ride, hike, and more. Or, set the kiddos up with a day at the Grand Targhee Kids Summer Camp, while you find respite at the heated pool.
A true winter wonderland, many happy days have been spent skiing, snowboarding, and sledding at each resort as well.
Grand Targhee is famous for the "Magic Carpet" lift that helps make lift access easy for new skiers, while the Kids Fun Zone will leave them with smiles as they zoom through the Mouse House and discover fun characters scattered on the hill. The Kids Ranch at Jackson Hole Mountain Resort offers age-specific activities and lessons for young skiers. The renowned ski and snowboard school offers tailored lessons for kids and young adults of all ages. New for the Winter 2018/2019 season, Solitude Station provides an enhanced Mountain Sports School experience for children seven years and older and adult lessons for all ability levels. Located at the Sweetwater Gondola mid-station, just a short two-minute ride from the base, Solitude Station boasts 12,000-square-feet of Mountain Sports School, rental, and dining facilities. This full-service lodge for Mountain Sports School guests will bring to life a new center of learning and fun in Jackson Hole.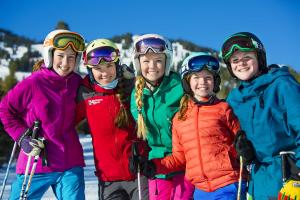 Snow King features thrilling night skiing and the always-popular King Tubes and Cowboy Coaster. An adrenaline- lover must, the Cowboy Coaster takes riders 456 feet up Snow King Mountain, and then lets you loose down twists and turns as high as four stories tall for an exhilarating roller-coaster thrill ride.
Soak up all the activities available at any of the three mountains and ask about their inclusive activity passes. Or let your kiddos experience it all, while you cruise the slopes or enjoy a spa day.
---
These tips are from an article in our 2019 Explorer Magazine: The Official Guide to Grand Teton, Yellowstone, and Jackson Hole.