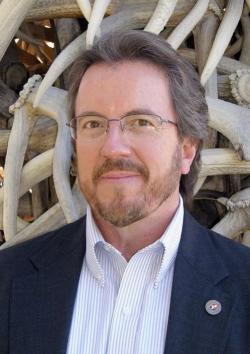 The Jackson Hole Chamber of Commerce has named longtime Wyoming resident Rick Howe as Chief Executive Officer (CEO) and President. Through its leadership and advocacy for more than 900 members, the Chamber of Commerce helps create a vibrant year-round economy and a dynamic, welcoming, and sustainable community. Howe joined the Chamber of Commerce staff in 2010 and has served as Vice President since 2016.
"We are so fortunate that Rick, with all of his knowledge and experience, is prepared and enthusiastic about leading our organization through the challenges and opportunities ahead," said Board Chair Richard Uhl. "With such a talented and dedicated Chamber staff across the board, it's really a gift to be able to promote from within and move forward with our mission without a lapse in leadership," Uhl added. Anna Olson, CEO and President since 2017, is departing the Chamber at the end of September to take the helm of the St. John's Health Foundation.
With news of Olson's new opportunity out in the community last month, business owners, elected officials, and community leaders from across varied sectors stepped forward to recommend that Howe become the next Chamber of Commerce leader. "It was really remarkable, given the strains of the times, to see the trust and appreciation that the community has for Rick's character, passion, knowledge, and accountability," said Uhl. Among other attributes, community members noted Howe's tireless advocacy, his passion for service excellence, his collaborative style, and his leadership during the pandemic.
Rick Howe, IOM, has been a Wyoming resident for four decades. Rick has served on the U.S Chamber Foundation's Board of Regents. He is a graduate of the U.S. Chamber of Commerce Institute for Organization Management (IOM) and currently serves on the Institute faculty. He teaches and speaks throughout the country, providing the latest updates and trends in all areas of organizational health with main focuses on leadership, customer service, business culture, board development, strategy, and ethics. He is currently State President of the Wyoming State Chamber of Commerce. In his role as Vice President for the Jackson Hole Chamber of Commerce, Rick has been responsible for overseeing Membership Services, Visitor Services, and Business Development Committee initiatives and partnerships.
Prior to joining the Jackson Hole Chamber of Commerce team, Rick's business ventures led to industry top-level performance and awards in the operation and management of hotels, marketing operations, restaurants, and in the music industry. In his free time, Rick and his wife Candy enjoy all that Wyoming life has to offer.
"I'm grateful for the opportunity to lead this wonderful and important organization," said Howe. "I'm very committed to always providing and fostering an environment that produces the best quality support for our members and the community."