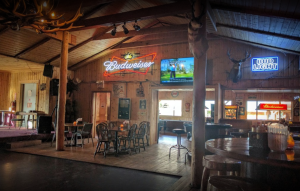 Just under an hour south of Jackson lives the famous Bull Moose Lodge and Saloon in Alpine, Wyoming. One might say it has a reputation for debauchery. Membership Director Elisabeth Rohrbach had lunch with the longtime owner Juline Christofferson. It became clear that this reputation was accurate, though it's going through quite a metamorphosis.
We'll get to that in a minute. Juline moved to Wilson, Wyoming in 1995. She owned and ran the also famous Stagecoach Bar, where Cowboys have been two-step dancing for decades, Bob Dylan showed up unannounced, and the drive-through liquor store was in operation.
In 1998 Juline bought the Bull Moose, performed serious renovations, and reopened. Though our delicious lunch was made by an internationally renowned chef, Juline made one thing very clear, "we don't want to lose that naughty reputation. We worked hard for that…we had to survive through it." In the 20 years since she reopened the Bull Moose she's "weathered exotic dancers" and has been sued multiple times, once because she allowed people to play Texas Hold 'Em. She told a story about how there is a ghost named Sophie who lives in the Lodge and visits the Saloon.
Juline is committed to turning the Bull Moose into a place where people come for the incredible food…and it is. New chef Craig has lived all over the world and infuses his food with his diverse cultural background. He said, "from Texas to Thailand you you'll find it here at the Moose." Their barbeque is becoming especially popular, as are their chicken wings, which thanks to Craig, now how a Thai-flavored option. To my astonishment there is a traditional Banh Mi Vietnamese sandwich on the menu. It was delicious!
On my way out the door, walking past the bar and moose taxidermy, I knew I'd have to return. I'll come down for a mellow lunch and be seated next to families who are comfortable and happy. Then I'll stay for a night of live music and (debaucherous) fun.
This article has been edited for length and clarity.
---
To learn more about the Bull Moose Lodge and Saloon and to book your stay, click here.
---
This story is a part of #humansofjhchamber: The campaign places a focus on the faces of our local businesses and nonprofits. Learn about their inspirations, why they got started in their industry, and more! Find the Chamber on Instagram, @jhchamber. For information about the program, please contact Director of Membership, Elisabeth Rohrbach, elisabeth@jacksonholechamber.com or 307.201.2301.
---
Written by Director of Membership, Elisabeth Rohrbach.