Legislative BOB Recap, PLUS How to Contact Your Representatives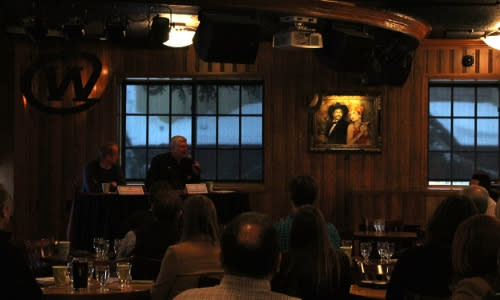 Thursday, February 6, local leaders, journalists, and Chamber members took to The Wort's Silver Dollar Bar to hear from Representative Jim Roscoe and Senator Mike Gierau. Moments after the event concluded, both hit the road for Cheyenne, where The State Legislative Budget Session began February 10, 2020. The session will last 24 days and will primarily address the state budget, though some new bills will be discussed if there is a 2/3 vote to hear them on the floor.
Both Representative Roscoe and Senator Gierau addressed their expectations for the session and answered questions about current bills on the forefront of Teton County citizens' minds. They each expect few of the bills in question to receive the necessary 2/3 votes to reach the floor during the budget session, which would mean discussing them in the following legislative session.
House Bill 22, which would take away mitigation rights for affordable or workforce housing, was brought up throughout the breakfast. This bill, with extreme relevance to Teton County, can be followed here.
The Tourism Funding Bill is another of interest that the Chamber will be watching closely. The Statewide Lodging Tax would be a 5% tax to all lodging accomodations. 3% would be allocated to fund the Wyoming Office of Tourism, while the local option would remain 2% with the option of adding another 2%. Follow this bill here.
Missing from the conversation, due to incoming weather and the urgency to get to Cheyenne earlier than anticipated, were Senator Dan Dockstader, Representative Mike Yin, and Representative Andy Schwartz. However, all representatives, present and absent from this Business Over Breakfast, can be reached using their contact information listed on this Jackson Hole Chamber of Commerce web page.
While in session, everything addressed on the floor can be accessed by the public here. On this website you can watch or listen live, listen to archived audio floor debate, view or track the status of all 2020 bills, and view daily floor and committee schedules.
The Jackson Hole Chamber of Commerce, with support from area legislators, bridges the gap between the public and those representing them. With events like these, regular updates via blog and email, and clear, concise communication on how to ask questions or have your voice heard, the Chamber works to bring legislators to the business community, to advocate for local businesses, and to inform all citizens of pertinent government topics. To stay up-to-date on the latest, always check our Advocacy and Education blog page.
The Chamber's next Business Over Breakfast will feature St. John's CEO, Dr. Paul Beaupre who will address "Changes in Rural Healthcare: What's at Stake for Wyoming?". To attend on March 5, 2020, from 7:30 – 9 AM, at E.Leaven Food Company, please RSVP in advance.