America's Serengeti is home to abundant wildlife encounters...sometimes right in your driveway. By Frederick Reimers
Last winter, one of my Instagram shots finally went viral. My feed is your typical Jackson Hole gallery: mountain bike rides in Cache Creek, photos of my friends trenching deep powder on Teton Pass, my puppy sleeping adorably, and of course, sunsets over the Tetons. As I never post shots of my half-naked butt in front of a mountain lake—nor is it a butt anyone would really want to see— my likes track along at around 60, spiking to 100 during ski season, and sometimes touch 200 if everything lines up perfectly.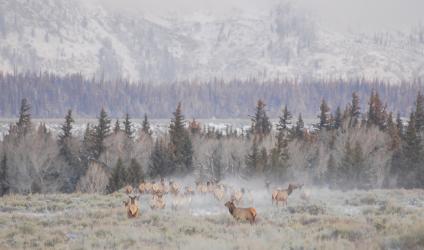 So it was a shock last March when the odometer on one post cleared 300 by lunch, 800 by dinner, and eventually ticked to more than 1,100. The photo had been picked up by some algorithm and broadcast to the furthest corners of the app. The shot in question: my puppy standing near our glassed back door, staring into the camera, his naturally pensive-looking markings suggesting the query: what the heck is that moose doing lying on our back deck? Just over his shoulder, the 800-pound moose in question lay in front of our snowy yard, legs tucked under her, her face turned towards the hot winter sun.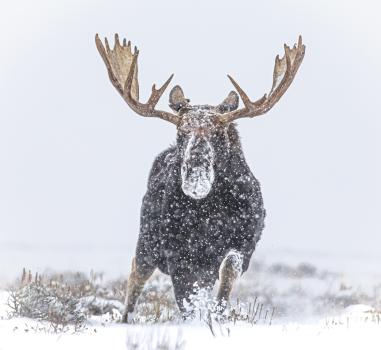 Photo by Peter Mangolds
It shouldn't be surprising that an Instagram post with the hashtags #moose and #jacksonhole would catch virtual fire. Our valley is synonymous with wildlife, starting with the world famous National Elk Refuge, which hosts between 5,000 and 10,000 elk every winter and forms the northern boundary of the town of Jackson. Eagle, red-tailed hawks, and osprey wheel in the sky. Deer and bear wander our neighborhoods at night (to judge from the scat in my yard), and people occasionally spot wolves and mountain lions crossing the slopes above town. Keep your ears peeled in the evenings, and you'll likely hear the otherworldly howls and yips of coyotes, talking with each other across the sagebrush.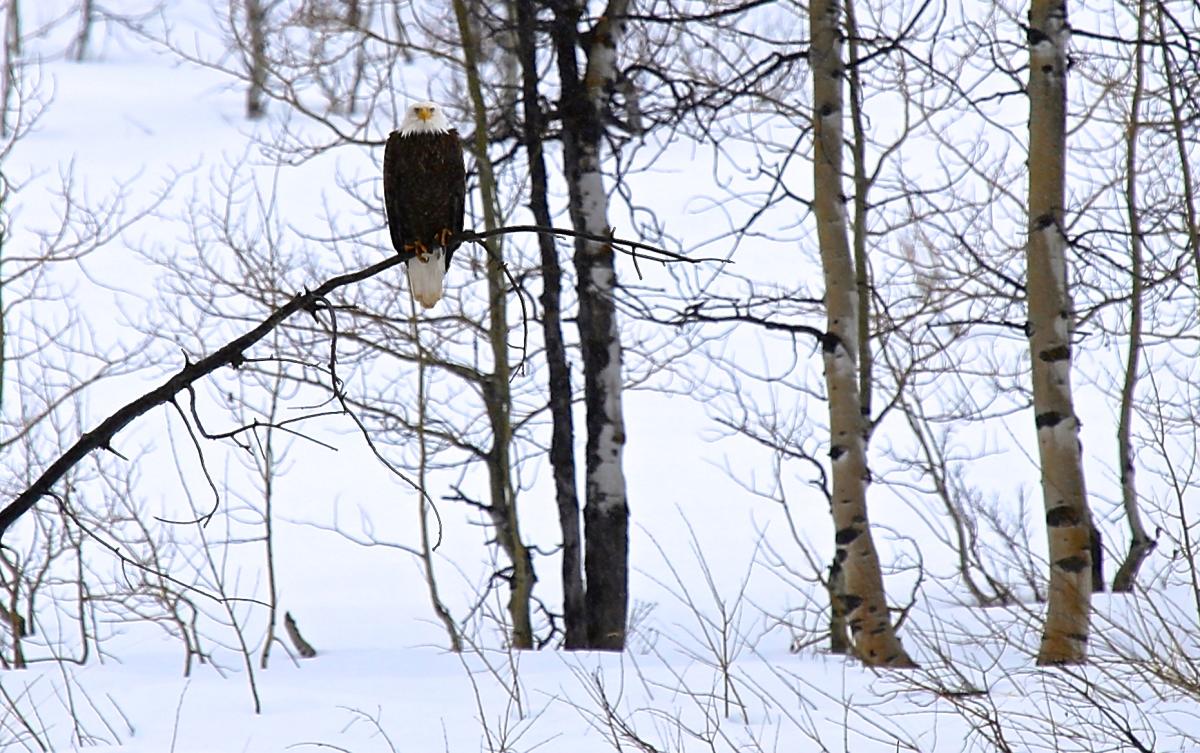 We love these animals deeply. That's why it was heartening this past fall when voters approved $10 million to fund wildlife crossings. The crossings will consist of 20-foot-high tunnels beneath the highway in spots moose have been known to frequent, a design that has worked in other communities to keep animals safe along roadways. While it was difficult to go a day in the past year without hearing advocacy, or discussion of the crossings, construction won't begin for a few years, as is the way with road projects. Even once they are installed, the crossings won't be a guarantee of safety of course, so welcome to Jackson Hole: Drive carefully and help us protect our favorite residents.
---
This article is from our 2020 edition of the Jackson Hole Explorer. The Official Guide for Grand Teton and Yellowstone. To read more stories like this tune into our #JHexplorer tab in the blog or visit here to get an Explorer of your own. 
We know there is way more to do in and around Jackson Hole it's almost impossible to pick and choose. Check out our blogs on summer or winter fun to help narrow down your search.
Need for more winter activites, look no further? Find backcountry skiing, cross country and heli skiing, dog sled tours, ice skating and more.
Looking to chill out and catch some waves? Rent a canoe or Kayak and explore one or a few of the many waterways in Jackson.
Shopping? We've got it. Explore Jackson Hole's, jewelry, clothing and art galleries. 
Photos in this blog, unless stated otherwise, are courtesy of Visit Jackson Hole.