Summer in Jackson is short and sweet with 80 degree sunny days and 35-40 degree nights. You could go straight from whitewater rafting to live music at the local watering hole. It might feel like a juggling act to pack appropriately.
Let Caitlin Iseler and Emily Coleman of Happy Active Family help you fill the perfect suitcase for your perfect adventure. Caitlin and Emily (and many other ambassadors) explore Jackson Hole and other areas. They report back with great details, photos and information so that you can streamline your planning process and find your  next happy active family experience. Don't let their name mislead you...these tips are applicable to the visitor without kids too!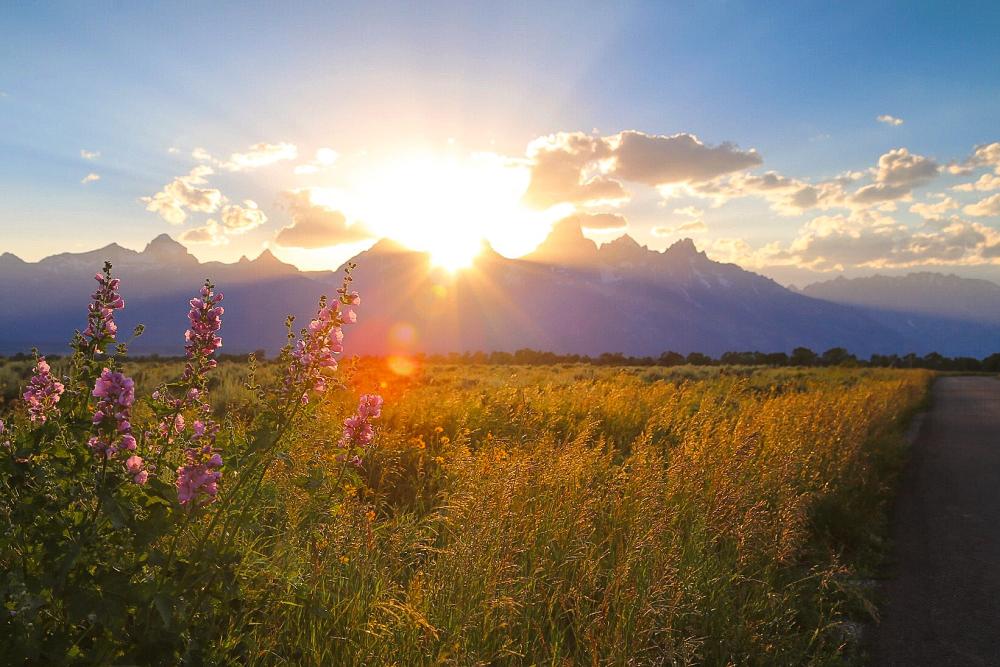 Must-haves for your day (or days) of outdoor fun
Proper footwear:
Athletic Sneakers or Hiking Boots (if you have a history of weak ankles and are headed out to a more challenging hike). I always like to wear ankle high thin wool socks while I hike (not necessary when biking). Whether in sneakers or hiking boots, well fitted wool socks will dry faster than cotton if they get wet, and keep your feet warmer if it gets chilly. They also help keep dirt, rocks, and sticks off of your ankles which can prevent being unnecessarily uncomfortable. Make sure they fit snug to avoid any rubbing that may cause a blister. For the same reason, do NOT break in your hiking boots in Grand Teton National Park or Yellowstone. You will get blisters. You will not be happy. If you don't have another choice, opt for a thin liner sock under the regular sock and bring moleskin to alleviate any pain and rubbing. Children should be fine with regular athletic sneakers for hikes.
Base Layers:
Depending on the weather forecast for the day, your base layers can be pants/shorts or tank/longsleeve but opt for synthetic materials. They will dry faster than a cotton t-shirt in the event that you get wet from rain, river crossings, or swimming. Long sleeves and pants will help keep the sun and bugs off of you which is an added plus. Research to know how exposed your hike will be beforehand to determine what to wear. Pop in to one of the local Visitor Centers to speak with an agent who can guide you in the right direction. Hikes with significant tree cover are often much cooler and buggier than the ones exposed to the sunshine. Let that help influence your decision.
Outer Layers:
Caitlin almost always brings either a rain jacket or lightweight spring jacket/windbreaker. There are so many opportunities to cool down, but not a whole lot to warm up. Some hikes end with swimming in frigid mountain lakes or at a higher elevation where the temperature is far cooler. Brief afternoon hail and rain storms can surprise you as well in July/August. Prepare for this. There is no such thing as bad weather, only poor preparation!
Sunglasses/Hat: The sun out here is incredibly powerful so make sure you protect your eyes and your kiddos' eyes with either a hat or polarized sunglasses.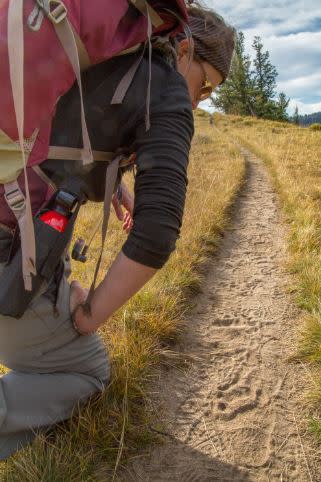 Bear Spray: If you don't have it, buy it. It can be found at most outdoor stores and grocery stores in town. Especially if you're hiking with children, bear spray is mandatory. With bear spray comes great responsibility. Read the directions and familiarize yourself with the proper way to use it. Do not spray it on your children. It is not a repellent, it is high power pepper spray.
Sun Protection: The sun in Jackson is aggressive. We are at over 6,000 feet elevation. Apply and reapply sunscreen or cover up. Make sure you pay attention to your children's skin, even the tiniest exposed areas are at risk. Be diligent!
Water: Plan to carry ½ liter of water for every hour for each person. Children can probably get away with a little less, but remember, elevation dehydrates people a lot quicker, so drink up.
Food: There is rarely an issue that food and water can't at least temporarily fix. 
 Bring high calorie snacks to keep everyone's hunger satiated. Trail mixes and deli sandwiches are often loaded with calories and protein that will keep you full as you work hard on your hike. Eat a healthy breakfast, pack a hearty lunch, and load up on some snacks. Tip: The world's greatest moral booster on a hike is a Snickers Bar at the end of your trail.
Camera: You will certainly not want to miss out on any of the surreal photo opportunities.
Things to Consider: First Aid Kit, Bug Spray, Water Shoes, Electrolytes, Bathing Suits, Map, Hiking Poles, Towel, Wag Bag Toiletry Kit.
Bringing Kids?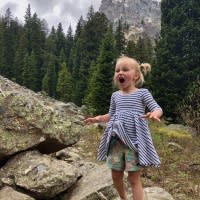 There's nothing like a child or two (or four) to really complicate the already tricky task of packing. Have no fear, we have you covered! 
Bring a spare set of clothes for your child in case they find themselves overly wet, muddy, and uncomfortable.
Give your kiddo a funky water bottle and a little backpack so they feel more inclined to drink water and have more of a sense of ownership over their hiking experience.
Give your older kids a whistle in case they get lost.
Do you prefer a sling or baby backpack? Expect to have to carry your child the entire duration of the hike. Let this help determine the level of difficulty of your hike. Better to be safe than sorry.
Have trail games in your back pocket such as I Spy, a scavenger hunt, or silly brain games.
Everyone (not just the kids!) will be better off with more water and snack breaks. Monitor for lethargy and signs of dehydration.
Celebrating your day with a night out on the town?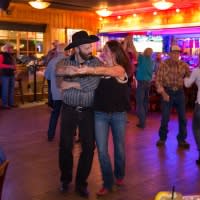 Jackson Hole is a laid-back place. You can wear just about anything! We do however encourage women who must wear high heels to go with a chunkier heel. The sidewalks on our Town Square remain wooden boardwalks like in the old days. That being said, Jackson is the perfect place to get your western, cowboy look on. Don your new cowboy hat, your spiffy cowboy boots, and you can never go wrong with turquois or a bolo tie. If you didn't bring any with you we have amazing shops and jewelry stores that can deck you out.
That about sums it up! If you have questions we haven't answered feel free to give us a call at one of our Visitor Centers.
---
These tips are from Happy Active Family a web-based resource for parents and caretakers to find the best suited family-friendly activities to partake in. They embark on the adventures and report back with details, photos and information so that you can streamline your planning process and find your  next happy active family experience. In addition to tips for Jackson Hole, Wyoming, Washington, DC and Baltimore are two of their main cities as well. They also have ambassadors in Austin, Atlanta, New York City, Seattle, and Nashville. Thank you to Happy Active Family!