One of the most exciting events to take on the terrain and the winter weather in Jackson Hole is the Pedigree® Stage Stop Race. With a purse and prizes totaling $165,000, there's little surprise to hear that this race is very competitive as it shares the thrill of mushing through the snow the last week in January. 
Photo Courtesy of Visit Jackson Hole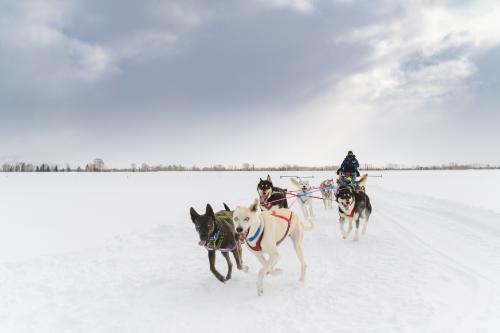 Beginning in Jackson, Wyoming, this premier "stage" format sled dog race is hosted by Jackson Hole's local communities as teams race on public lands in Bridger-Teton, Shoshone, & Caribou-Targhee National Forests.
As many as 6000 spectators have been known to gather at 6,200 ft for the two-mile Stage Distance. The 2023 Ceremonial Start on the Town Square is at 5:00 PM, with booths, giveaways, and a laser light show by Encore.
The 1st musher leaves the Chute at 6:30 PM, with an estimated finish of 8:00 PM for the dogs. 
Each leg of the race includes a meet and greet with the mushers, but the Town Square sendoff is the highlight of all the stops. Some stops on the tour have additional events. Visit https://www.wyomingstagestop.org/stages/jackson-hole/ for more information about each race day.
The Town of Jackson Public Works Department, will be building a track for The Pedigree Stage Stop Sled Dog Race. The following streets will be affected: Broadway and Cache to Redmond (right) south to West Cache Creek to Snow King Property. 
Photo Courtesy of Visit Jackson Hole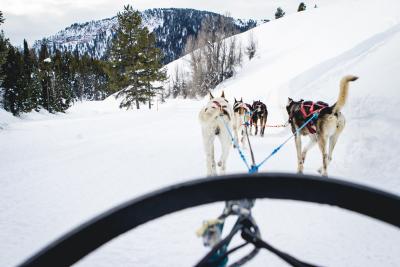 With the announcement of 24 teams registered for the 2023 race, the countdown is on. The 2023 field includes teams from 10 U.S. States, 4 Canadian Provinces, and 1 team traveling from Germany. 
The 2023 Race Will Commence on the Following Schedule: (All stages are 30 to 35 miles)
·       January 27 — Ceremonial Start - Jackson, Wyoming
·       January 28 — Stage One - Teton County, Wyoming
·       January 29 — Stage Two - Lander, Wyoming
·       January 30 — Stage Three - Pinedale, Wyoming
·       January 31— Stage Four - Big Piney / Marbleton, Wyoming
·       February 1 — Stage Five - Kemmerer, Wyoming
·       February 2 —      Travel Day    
·       February 3 — Stage Six - Alpine, Wyoming
·       February 4 — Stage Seven & Final Banquet - Driggs, Idaho
2023 ENTRIES: 
1. Randy DeKuiper – Hesparia, Michigan
2. Al Borak – Newberry, Michigan
3. Dennis LaBoda – Grand Marais, Minnesota
4. Geneva Lyon – Brightwood, Oregon
5. Bruce Magnusson – Cheboygan, Michigan
6. Tim Thiessen – Leadville, Colorado
7. Christina Gibson – Carlton, Washington
8. Thad McCracken – Mosier, Oregon
9. Austin Forney – Leadville, Colorado
10. Michael Tetzner – Burg, Germany
11. Mike Bestgen – St. Cloud, Minnesota
12. Chris Adkins – Sand Coulee, Montana
13. Donny Poulin – The Pas, Manitoba, Canada
14. Alix Crittenden – Bondurant, Wyoming
15. Anny Malo – St Zenon, Quebec, Canada
16. Grant Beck – Yellowknife, Northwest Territories, Canada
17. Sarah Tarlton – Mountain, Wisconsin
18. Jules Struzyna – Williston, Vermont
19. Cathy Rivest – St-Paul-de-Joliette, Quebec, Canada
20. Lina Streeper – Fort Nelson, British Columbia, Canada 
21. Dave Torgerson – Bozeman, Montana
22. Doug Butler – New Haven, Vermont
23. Liz Thompson – St. Anthony, Idaho
24. Rachael Courtney – Tolstoi, Manitoba, Canada
For more information about volunteering and programming, email info@wyomingstagestop.org.