Teton Village is home to "big red" the Aerial Tram at Jackson Hole Mountain Resort. The famed red box can carry 100 people to the top of Rendezvous Peak (10,450 feet) in just 12 minutes before they disembark in front of Corbett's Cabin and select their descent.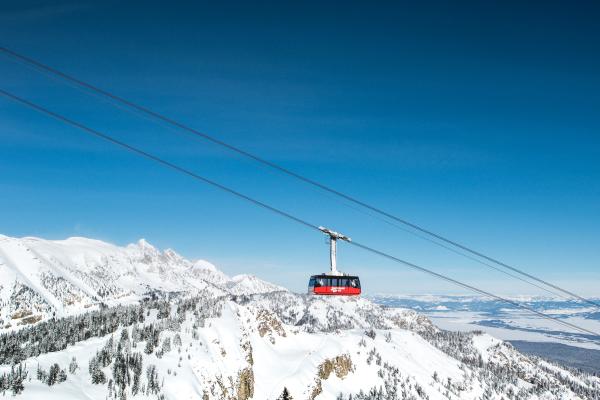 Jackson Hole Mountain Resort has consistently been voted the best ski and snowboard destination in the U.S. One big reason is the variety of terrain to be found in the Tetons. 
Yes, there is backcountry access—the Tram makes the mountain's expert and backcountry terrain very accessible for more experienced skiers—but skiing in Jackson Hole means skiing for everyone. 
About half of the terrain found in bounds is dedicated to intermediate and beginner slopes, with easy access from the base area to ensure plenty of options for the whole family to enjoy.
 We like to call it Cowboy Powder. It's no joke, Western Wyoming gets a lot of snow. Still, with the seemingly endless expanse of skiable terrain, there's always an opportunity to find untracked territory, and fresh powder turns.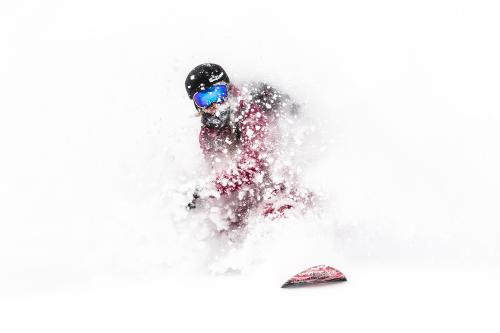 Skiing in Teton Village is not just about the downhill, 
it's about the whole Alps-style experience of being on the mountain, and that means delicious food that can be found from top to bottom. With a range of on-mountain options from casual, family-friendly fare to upscale dining, skiers can pop into Corbett's Cabin at the top of the Tram for the best waffles in the Rockies or take a seat in the Piste Mountain Bistro or the Rendezvous Alpine Kitchen at the top of Bridger Gondola—where the menu is no grab and go but an elevated dining experience locally sourced ingredients at 9,095 feet. The Alpine Kitchen has views of Rendezvous' summit and the famous "Corbet's Couloir" from the south-facing deck. The sunny deck is one of the sweet spots for enjoying lunch or sipping on a craft cocktail.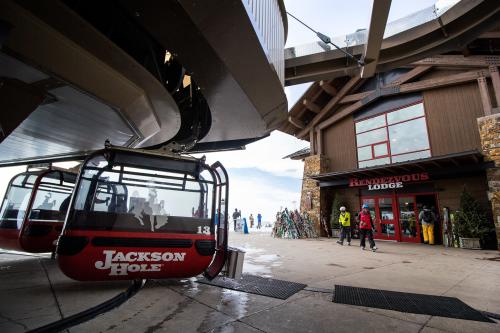 Though the quality of skiing is untouchable and timeless in Jackson Hole, getting lift tickets has evolved. 
In an effort to enhance the on-mountain experience, JHMR is continuing to manage capacity despite the lifting of pandemic restrictions. By limiting the number of tickets sold per day and requiring Ikon and Mountain Collective Pass holders to make advanced reservations, the resort is able to offer a guest-forward experience. And when you "secure your stoke"—a.k.a. buy in advance, skiers and snowboarders can save up to 10% on lift tickets.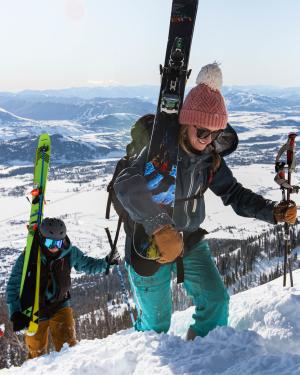 To ensure guests can book their desired ski dates, JHMR recommends purchasing lift tickets at least 14 days or more in advance. Tickets do become available the day of and for afternoon passes. Check shop.jacksonhole.com for reservation openings. 
For a complete list of FAQs for lift tickets and JHRM reservations, visit: https://www.jacksonhole.com/lift-tickets
Once you know what day you're landing, the next item on the agenda is ensuring you have the right gear to take on the mountains. Save yourself the stress of traveling with your gear and remembering everything you need. We have the solution: rent top-of-the-line equipment when you arrive. 
Jackson Hole Mountain Resort has four rental locations and a delivery option for ski and snowboard equipment. Rental programs make enjoying your trip easier than rushing around for the right stuff. Streamline the pickup process with the option to pick up your equipment any time after 3 pm the day before and enjoy the flexibility to pick up or exchange rental equipment at any of our rental stores - JH Sports, Teton Village Sports, and Hoback Sports. 
For delivery options, connect with Mountain Direct Rental Delivery here. 
No matter your skill level, taking a lesson from an expert or just having someone to guide you along the mountain can turn a challenging day into an excellent day. From group lessons to private lessons for adults and kiddos as young as three, a day out with a professional ski or snowboard instructor will deepen your experience in Jackson Hole. Whether you want to perfect your technique, explore new terrain, or just learn, the Mountain Sports School will take your skiing and riding to the next level at a pace calibrated just for you.