There is so much holiday wonder to be had in our Western outpost, that it's hard to know where to begin. So, here are a few Jackson activities to add to your bucket list for when you're off-piste.
Be a part of history and take a sleigh ride on the National Elk Refuge. This beloved winter tradition of a horse-drawn sleigh has been happening each winter for a century and remains one of the most enchanting ways to see the wild nature of Jackson Hole.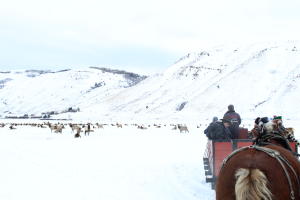 A sleigh ride on the Elk Refuge is a "must do" activity
Head to Snow King for a Jackson Moose hockey game. The Jackson Hole Moose Hockey team is a non-profit organization that competes in the Senior A division of the U.S.A. Hockey Association. Before the game, be sure to hit up the snow tubing track, King Tubes at Snow King—an easy favorite for all ages.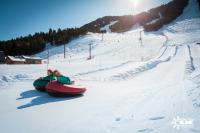 Tubing at the King will always put a smile on kids faces
Hear the call of the wild, look for elk, bighorn sheep, wolves, deer, and more on a winter expedition with Great Western Expeditions as you travel through the Greater Yellowstone Ecosystem, home to about 300 species of birds and nearly 70 species of mammals.
Book a snowmobile with Scenic Safaris and head out to Granite Hot Springs—which is located roughly 30 miles South of Jackson and can only be accessed by skis, snowshoes, snowmobile, or dogsled—or head over Togwotee Pass with Togwotee Mountain Lodge Snowmobiling where everything from lunch to boots is included in your guided adventure. Bondurant Basin Outfitters is a great option to the south where less traffic is found in the neighboring backcountry and the only way to enjoy a historic trapper's cabin.
Fulfill your dreams of becoming a musher with sixteen huskies tearing through the snow and a chance at experiencing the swift and wild nature of Jackson Hole Iditarod Sled Dog Tours and Call of the WYld Dogsled Tours which makes it easy to take short treks from the base of Jackson Hole Mountain Resort.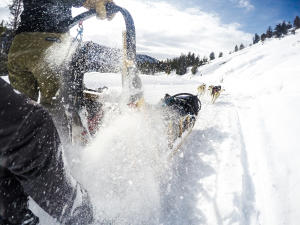 Live your mushing dreams with a dog sled tour, "Jackson Style"
Or, lace up your skates and enjoy the many places to glide across ice—one of the best things about our cold temps! The Town Square rink is free and if you have your own skates, Winter Wonderland is free. Otherwise, the rink is manned from 4:30-9 pm Tuesday- Friday, and from noon to 9 pm on the weekend. Free hot chocolate and skate rentals are available at the Stage Stop building.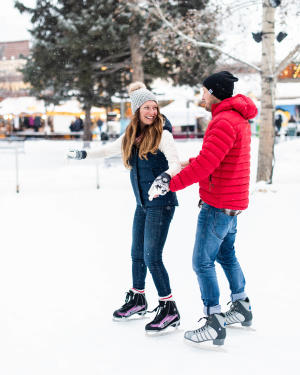 Skate to your hearts content in town or at the village
There is free skating at the Village Commons' rink at the base of Jackson Hole Mountain Resort set beside an ice sculpture garden and playground. Rentals are available in the warming hut by the rink.