Jackson Hole and Teton County Visitor Information
Please note, now through September 4th, 2021, face masks must be worn in Teton County, including the city of Jackson, indoors and where social distancing cannot be ensured. 
Are you thinking of heading to Jackson Hole? Jackson is in high demand, and we recommend making reservations for lodging, dining, and activities.
While Jackson Hole, WY, is open and welcoming visitors to this magical place, we ask visitors to remember our community health resources are small, and services and experiences will be limited. Masks are no longer required to be worn indoors and in public spaces in Jackson though they are still recommended where social distancing is not ensured.
Teton County, WY has moved into the Red or High Risk Level for COVID-19.Teton County encourages visitors to get tested before visiting Jackson Hole. Vault tests ordered online are FREE when a Wyoming shipping address is entered in checkout. Teton County recommends wearing masks, including vaccinated individuals per recent information released by the CDC, here. 

Camping in Grand Teton National Park and some places in Yellowstone has moved to an advanced online reservation system for the 2021 season. Please click here for more.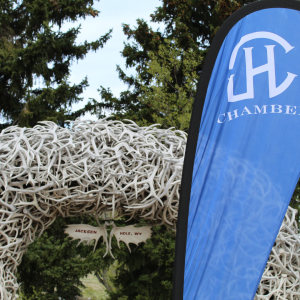 At the Chamber we will keep the latest information on what is open and what services visitors will be able to provide, please check in with us before you travel. The Chamber of Commerce Visitor Information will be available to reach by phone or email 7 days a week from 9 a.m. to 5 p.m. info@jacksonholechamber.com. 
Jackson Hole encourages the public to thoughtfully consider their travel plans and urges travelers to do their part and follow government and health professional guidance to help protect themselves and others. The wellbeing of our residents and visitors remains our greatest priority. By acting responsibly, we can maintain Jackson Hole, WY as a wide-open safe haven and source of inspiration.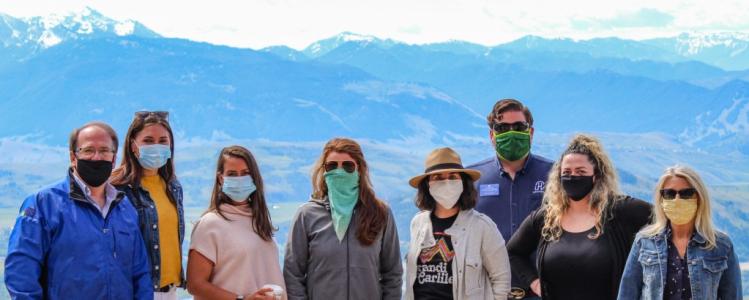 The Chamber Staff thanks you for helping keep our community and visitors to it safe.
Please remember to be clean, careful, and connected during this time:
Clean: Please remember to wash your hands often and cover coughs and sneezes.

COVID-19 Preventative Measures: 

Wash your hands often with soap and water for at least 20 seconds. If soap and water are not available, use an alcohol-based hand sanitizer with at least 60 percent alcohol.

Avoid touching your eyes, nose, and mouth.

Clean and disinfect surfaces and objects that may be contaminated with germs.

Avoid close contact with sick people.

If you are sick, limit contact with others as much as possible. Stay home if you are sick.

Cover your nose and mouth when coughing or sneezing.

Careful: Please wear a cloth face covering when in confined spaces and shopping indoors.  Our community has put tremendous effort to mitigate the impact of Covid-19 and we would ask that you follow suit to help reduce the spread of Covid-19

Public Health Hotlines:

Teton County Public Health Update Hotline: 1-307-732-8628

St. John's Health Evaluation Hotline: 1-307-739-4898 Option 3

St. John's Health Shortness of Breath Hotline 1-307-739-4898 Option 1

Connected: To learn more about our most up to date health orders and phased safety measures, please visit here.