Photo Courtesy of Gallery Wild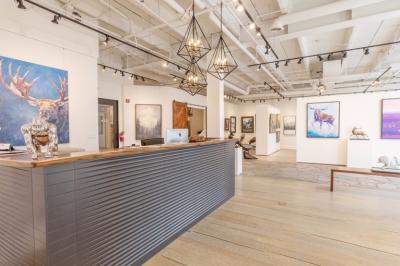 One of Jackson's newest galleries has quickly made a name for itself as a mainstay off of the historic Town Square. Gallery Wild is the vision of wildlife painter Carrie Wild and her husband, wildlife photographer Jason Williams. Showcasing contemporary fine art focused on wildlife, landscapes, and conservation, Gallery Wild seeks to inspire viewers and collectors to engage in protecting wildlife and open spaces for future generations to enjoy. 

Boasting a collection of emerging and established artists, Gallery Wild offers fine art in various mediums, including oil and acrylic paintings, bronze sculptures, photography, and mixed mediums. With a carefully curated collection and an impressive roster of artists, Gallery Wild's success has quickly translated into a second location opening up in Santa Fe, New Mexico, in June of 2022.
With an impressive roster of artists and resounding success, it should come as no surprise that Gallery Wild has four artists participating in this year's Jackson Hole QuickDraw as a part of the Jackson Hole Fall Arts Festival, presented by JP Morgan Chase & Co.
             Patricia A. Griffin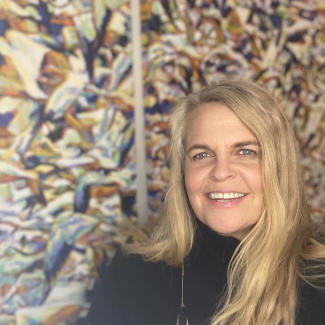 One of the artists, Patricia A. Griffin, is known for her expertise in the relationships of color. She can skillfully blend cool colors against contrasting warm colors to create lines, shadows, and definitions in her work. Painting from her experiences, Griffin spends countless hours in the field observing her subjects. This has given her a breadth of experience in bringing to life such scenes as two bull moose locking antlers or a group of bear cubs playing in a field. This skill and experience make her works of art a can't-miss at Gallery Wild or this year's Jackson Hole QuickDraw.  
Amber Blazina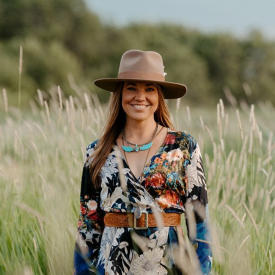 Next is renowned contemporary Western oil painter Amber Blazina. She is known for specializing in impressionist and expressionist styles. She expertly combines her experience in design, knowledge of her study of other artists, and her experiences growing up in the plains of Montana to bring about bold and exciting oil paintings depicting scenes of the West, including wildlife and beautiful landscapes. Her skills, style, and abilities have won her numerous accolades and features in articles by publications such as Big Sky Journal and Western Art & Architecture. Look for her pieces at Gallery Wild and during the Jackson Hole QuickDraw.
            Caleb Meyer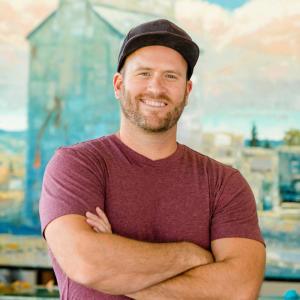 Known for his incredible landscape paintings, Caleb Meyers's love of art began in his early childhood growing up in the small mountain town of Hailey, Idaho. However, it was in a college painting class that Caleb discovered his love for his preferred medium, oil painting. Having studied under nationally recognized oil painter Robert Moore for two years, Caleb built a strong foundation. From this foundation and constant practice in his garage, Caleb's own style was able to emerge. He now resides in Missoula, Montana, with his wife and children and has featured his work in numerous galleries and publications such as Southwest Art and American Art Collector. Look for his art at Gallery Wild and this year's Jackson Hole QuickDraw.
Aaron Hazel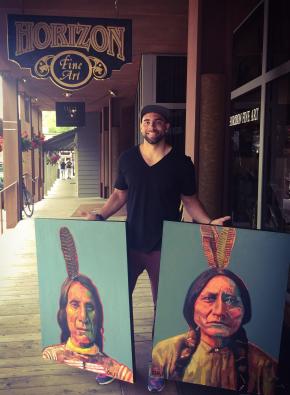 Aaron Hazel is an award-winning artist who has had his work featured in both international and domestic galleries. A member of the Whitman College basketball team, where he earned his B.F.A., his early work focused mainly on depictions of athletics, with numerous professional athletes commissioning him for works. His recent work has focused on representations of minorities of the West. Hazel as an artist, is a true believer in studying his craft and seeking avenues for improvements and insights, whether it is assisting in workshops or serving on juried committees for art shows; Aaron is always striving to study different subject matter. Look for his work at Gallery Wild and the Jackson Hole QuickDraw.
For more information on Gallery Wild and the artists they represent, click here. For more information on the Jackson Hole QuickDraw, click here. Looking to learn about the Jackson Hole Fall Arts Festival, presented by JP Morgan Chase & CO, click here.