Jackson's business legend shares advice for a new generation of Teton County entrepreneurs.
The first Chamber Business Over Breakfast of 2020 featured six of Jackson's wildest women entrepreneurs who provided insight and inspiration on owning businesses, but an icon was missing from the room. 
Not without notice of her absence, Clarene Law of Town Square Inn's was unable to attend. After all, Law formed somewhat of a Jackson empire starting in 1962 with just a $20,000 down payment. Now, she owns Town Square Inns and several other hospitality businesses throughout the state. The event provided insight and inspiration, from six of Jackson's female business owners. We felt that Law's perspective was still vital to share.
Tell us about yourself, your business, and a little background on how you got started.
Jackson was a different place in 1962. The ranchers were moving to town, the economy changing to more of a tourist base. We started with 12 cabins and the rooms above the office, which we still use at the Antler Motel (with the big neon sign!). My husband, Franklin Meadows, was a schoolteacher. Between his professor's father and my road construction father and our dear mothers and a bit of us, we garnered the $20,000 down payment on what was our first lodging property. The total purchase price was $125,000. We bought on a contract, and the owners came back and worked for us. I had a bit of bookkeeping experience, and with the help of a mail-order accounting course, I had a job at the Wort Hotel as a bookkeeper and fell in love with the hotel business. A lot of folks taught and helped me on the way. 
Can you talk a little more about the community here and how it affected your start or how it affects your business currently?
Jackson has always been magic to me. We came at a time when a person who wished to could work hard and acquire property. I wish it were so now for the next generation. Being able to start early, surround myself with positive people, and a lot of hard work allowed us to grow. It has been more than just the business aspects of my life. It has been about participating in a changing and growing community. Those opportunities to serve are still there.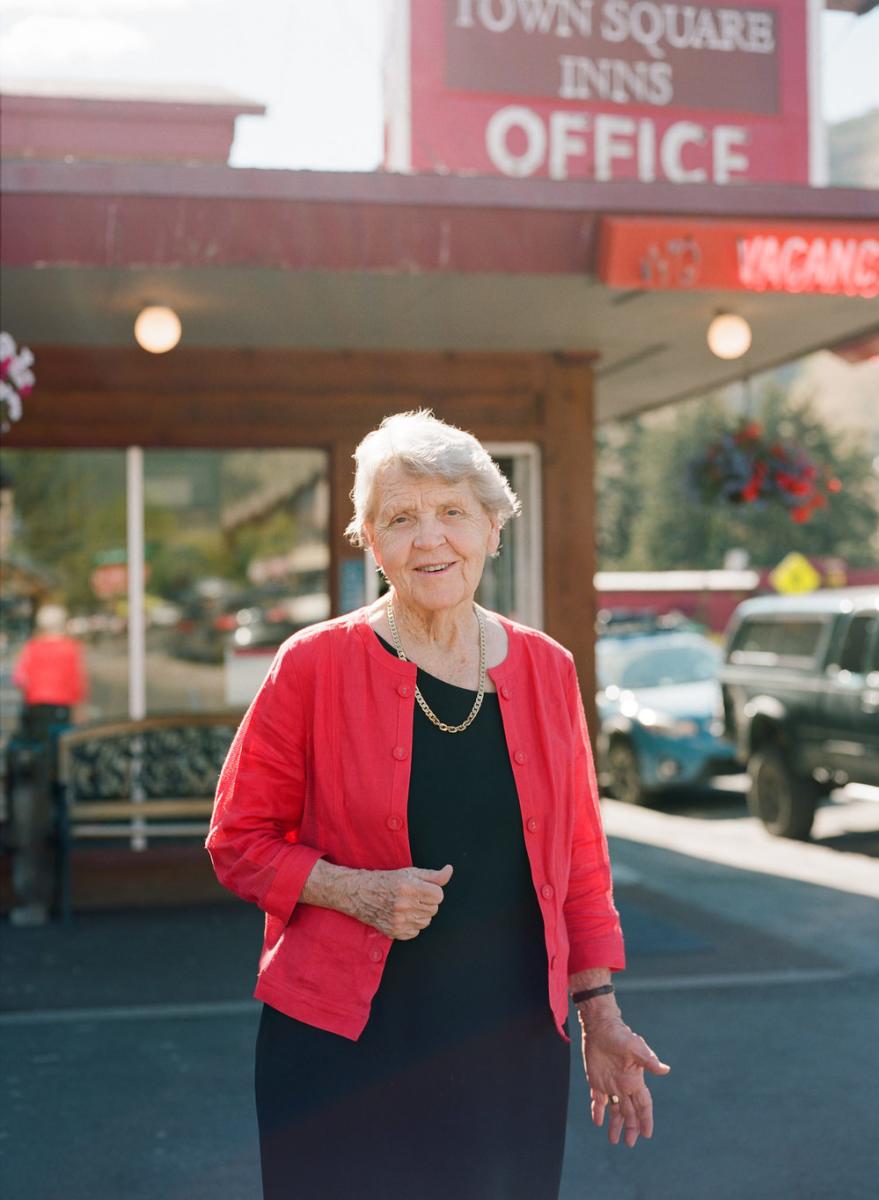 Photo Clarene Law (Lindsay Linton Buk-Linton Productions)
Do you find that you face any hurdles or different circumstances approaching business as a female business owner specifically? 
I always regarded myself as a person in business, not a woman in business! Early on in my career, I found the U.S. Government Small Business loan program for women in business and availed myself of such loans. The loans were beneficial to get started. After a while, Jackson State Bank President, Felix Buchenroth said, "what are you doing fooling around with those government loans? The bank will loan you money". In Jackson Hole, women were treated as equals to men in business. 
Have you experienced moments where you're the only woman in the room, how do you handle that?
Many times. I have been the only woman on a board of directors. I was just me.
Hiring in Jackson is difficult, but we don't seem to see many job ads for your business. How have you built your company culture to make it a place that people want to work? 
I love people. My dad worked for the same company all of his working life. Early on, I learned the principle of "Employee, Employer loyalty." I love my employees, I know their names, and I treat them as equals. We have employees who have been with us for more than 40 years, some of whom have retired with us. I expect their loyalty and give them my commitment. I have excellent employees.
What's a piece of actionable advice that you can give to either someone wanting to start a business or to women searching to find a place/calling?
"Just do it." Don't be afraid to fail. Look for opportunities. Surround yourself with positive people. It might take a few tries, but you will find your place. What is "your place or calling"?. To me, there is no more excellent gift in life than the gift of contentment. Big or small, find that area. Look for those experiences and people who build you up. And, yes, step into the stream of progress, looking forward while building on past experiences. Be sensitive to your needs; work toward that inner peace and happiness. You spend a long time working, be happy!
---
Read about the rest of our panel's answers to these questions here. And stay up-to-date on similar events on our Business Over Breakfast page or our Chamber Mixers page.