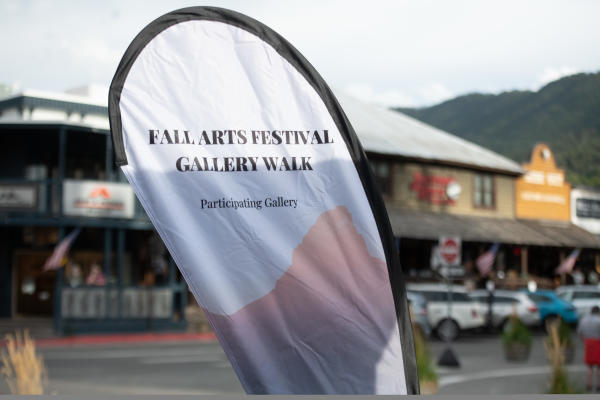 Whether this is your first trip to Jackson Hole, or you have a Pearl Street post office box, it rarely feels like there is enough time to make all the stops on art walk night—good news during Fall Arts Festival, no one has to prioritize one gallery over another. 
With four Jackson Hole art walks built into the Fall Arts Festival schedule, there's multiple chances to make it to a new gallery or stop by an old favorite and take advantage of the extended hours. 
On Friday, September 8th, the unofficial kick off to Fall Arts Festival, Palates & Palettes will keep downtown galleries busy from 5-7pm. Presented by the Jackson Hole Chamber of Commerce and Build Magazine, P&P pairs the best of local eats, family recipes and gourmet exploration with canvases around town.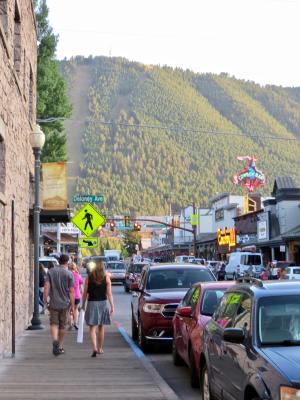 Some artist highlights include the artists in residence at West Lives On gallery, Scott Nickell & Shannon Maire.  Husband and wife duo Carrie Wild & Jason Williams of Gallery Wild will present Dual Spectrum at Gallery Wild. 
Heather Zusman's new take on art noveau, Bending the Line, will be on exhibit at Diehl Gallery. The official show reception for Mary Roberson and Travis Walker will take place at Altamira Fine Art during P&P. Chelse Wren's unique use of gunpowder will wow visitors to Horizon Fine Art during the Palates & Palettes. The demonstration and reception incudes  live music with Zach Friefof. 
QuickDraw Artist Quent Cordair and local landscape painter and climber Dave McNalley  will be on site for the night at Quent Cordair Fine Art. And no one should skip out on extending their walk a few blocks south of the square to see the galleries at the Center for the Arts. The Art Association of Jackson Hole has paired up with Local Restaurant for the night. 
Can't decide which direction to head in first? You can always let your stomach decide instead of your eyes. Local restaurants Teton Tiger, Amangani, Hatch Tacqueria, Gather, Blue Collar Group, Persephone Bakery and Handfire Pizza are sharing their local fare at Palates and Palettes.  
If you miss your chance to get to Brookover Gallery on Friday, head over on Saturday afternoon for a meet and greet with David Brookover and his new protégé, Ryane Nicole from 12pm-6pm. 
A good link to keep handy throughout the whole Fall Arts is the Jackson Hole Gallery Association's map to Jackson galleries—you're going to need it more than once while creating your itinerary.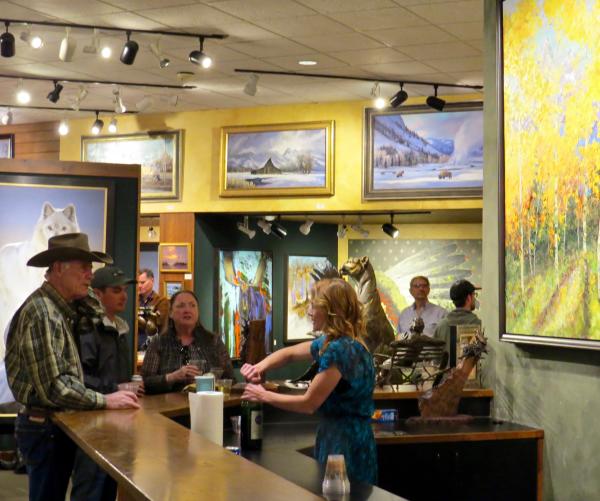 On Tuesday, September 12 a new event kicks off its inaugural year, the Independent Artist Showcase which will take place at various locations in town from 5pm-7pm. The goal of this new event is celebrating the community—its artists and businesses—coming together in the spirit of supporting one another and the cornucopia of creativity that runs like highwater in the Tetons. 
Midnight Lunch has partnered with several artists including Anna Douglas Smith. Faherty is showcasing Ava Reynolds and Ally Giorno. Edward Jones Financial Advisor, Nick Koinis is featuring several artists at his office space.  Ark Silver Gold Osmium, Habits, Accentuate and D.O.G are also participating in the new event. 
On Wednesday, September 13th, art lovers can take a lap with the Jackson Hole Gallery Association Art Walk from 5 - 8 pm. 26 galleries make up the gallery association and represent a wide variety of mediums and artist styles.   Don't forget to pick up a Gallery Guide at the Visitor Information Tent on the Town Square for a list and map of all galleries and other art walk dates throughout the summer.  The art walk will be paired with light libations and faire as art lovers can enjoy the extra time to visit the galleries. 
Also new to the 2023 festival schedule is the Westbank Art Gallery Tour, happening on Wednesday September 13th and Thursday, September 14th from 11 - 7:00 PM. From glasswork to jewelry to paintings, Thal Glass Studio & Gallery, Annie Band and Miga Rossetti will open their studios for tourgoers to get a sneak peek behind the scenes and learn about the artists' creative processes. 
The final event of the Fall Arts Festival is perhaps the most casual of the events, a strolling  Sunday Art Brunch Gallery Walk on Sunday, September 17th from 11am-3pm. But don't be fooled according to all the galleries, last is not least. Most gallery owners says more paintings are sold on this Sunday than the entire week. The free gallery walk bid adieu to the 2023 Fall Arts Festival with brunch bites, Astoria Fine Art's secret family recipe for Bloody Marys and many options to refill on mimosas. 
Two other summer art walks not on the official Fall Arts Festival schedule but are longstanding seasonal favorites will certainly add to your local feathers for the belt around your cowboy hat—and shouldn't be missed if you weren't sure what to do for an hour or two during Fall Arts Festival. 
The National Museum of Wildlife of Art's Sculpture Trail and Jackson Hole Public Art's Wild Walls will give you perspective on Jackson from the downtown alleys to the unobstructed views of the National Elk Refuge. The Fall Arts Festival brings attention to everything that fits to a frame, and more, but it also gives visitors a chance to see what makes Jackson so inspiring for so many artists.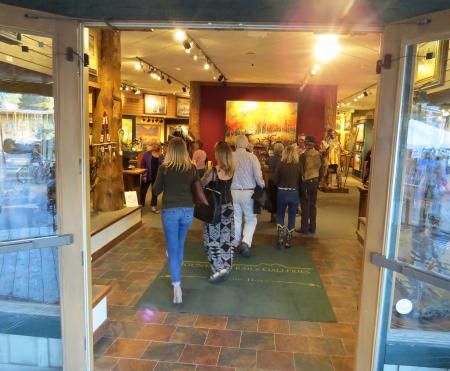 Taking advantage of light and seasons, no walks on the trail are ever the same. The ¾ mile Sculpture Trail begins at Bart Walter's Wapiti Trail and winds up the sage covered hillside. Award-winning landscape architect, Walter Hood designed the trail which opened to the public in in 2012. It stretches along the bluff to the north and south, overlooking the National Elk Refuge and becoming an open air amphitheater at the Museum entrance. An ongoing project, the art walk will eventually be home to 30 permanent and temporary works of wildlife sculptures. The many styles and subjects on the trail range from site-specific to contemporary and non-representational pieces.
The Museum and Sculpture Trail are on the main thoroughfare into Jackson from the north and connect directly to the extensive Community Pathways system. The free trail is accessible via car, bicycle, and foot. 
The summer exhibit of JHPA's Wild Walls will take you through the streets of Jackson like you have never seen them before—local artists paired with nonprofits tasked to visualize the organizations' missions and messaging. 
This year's partners include The Nature Conservancy, Grand Teton National Park Foundation, Greater Yellowstone Coalition, Teton County Weed & Pest and PlayCleanGo, Friends of the Bridger-Teton, Wyoming Untrapped, Dave Hansen Whitewater, Jackson Hole Book Trader, JH Travel & Tourism Board, Community Foundation of Jackson Hole, Wyoming Arts Council, Snake River Brewing, Pinky G's, ArtShop, The Charles Engelhard Foundation, William E. Weiss Foundation, Inc., Stinky Prints, Anvil Hotel, Teton County Library.
Visit JHPA online to download this year's map and brochure  but also make a point to download the Hoverlay app that accompanies the tour. There are augmented reality features at each mural. JHPA combines the season's 14 murals with the augmented reality feature to promote a greater understanding and awareness of the region's ecosystem through contemporary scientific research.