May 20-30, 2022 Marked The Return of Old West Days
For the first time in over two years, Old West Days made its return to the streets of Jackson. The ten-day festival celebrates Jackson's western heritage and highlights the Town's unique history and culture. This year's festival was a resounding success and, in many ways, lived up to its local moniker "Old Wet Days," with lively events despite stormy weather throughout the week.

Old West Days kicked off with a showcase of the Teton Powwow at the Center for the Arts, which showcased indigenous knowledge keepers who shared their rich culture, traditions, dance, and history with visitors and locals alike. Saturday, the 2nd ever Teton Powwow and Expo was a resounding success, adding a layer of Native American culture and education that had been previously lacking during Old West Days. "We're so grateful to partner with Central Wyoming College this year and future years to bring together the Teton Powwow and Old West Days in a rich, authentic way," said Britney Magleby, Director of Events.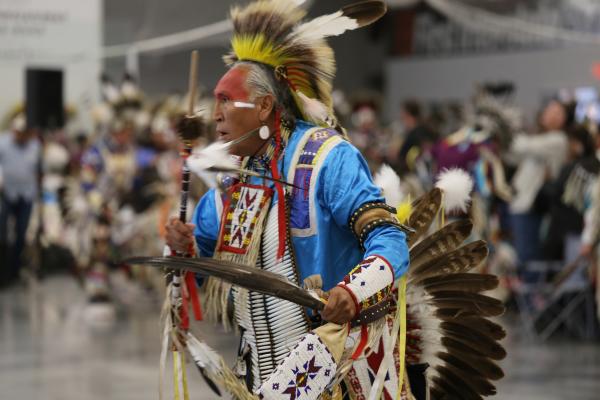 Photo credit: Teton Powwow
Saturday also saw the 55th Annual ElkFest, a signature Jackson Hole event, with the BSA Antler Auction returning to in-person for the first time in two years. Attendees were treated to a wide array of antlers and responded by buying and bidding high. In fact, it was the third-best year in overall sales in the auction's history. A highlight was a beetle cleaned elk skull with antlers attached, affectionately referred to as "The Big Guy", that sold for $8700.

ElkFest weekend closed with the Sunday High Noon Chili Cookoff, which featured music by local favorites Strumbucket. Attendees were treated to all the chili they could sample with the purchase of a $20 sample spoon. Ten participants brought chili, with Café Genevieve taking the coveted people's choice award. Judge's scoring led to first place: Jackson Hole Golf & Tennis, second place: SUDA Izakaya, and third place: Café Genevieve.   
2022 Chili Cookoff Winners
People's Choice Winner: Cafe Genevieve
First Place: Jackson Hole Golf & Tennis
Second Palce: SUDA Izakaya
Third Place: Cafe Genevieve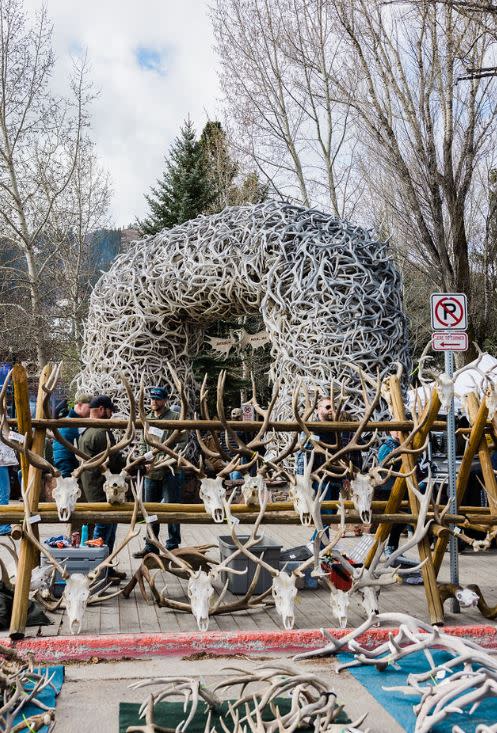 Photo credit: Diana Edlinger Studios
Later in the week The Ranch Tour, hosted by the Chamber of Commerce, was held for the first time during Old West Days. Attendees were treated to a tour of two local ranches, Mead Ranch and Snake River Ranch. The tour wrapped up with a family-style dinner catered by Genevieve Catering with refreshments from local breweries, distilleries, and Jackson Hole Winery. The first-time event was a huge success for the ranches and the lucky few who were able to see these ranches up close and personal, so The Chamber intends to bring back this unique experience for Old West Days 2023.

Thursday marked the final celebration of the Jackson Hole Chamber of Commerce's 75th Anniversary. Chamber members were treated to an open-air mixer on the square with light food and light refreshments. Members were also presented with branded mugs and a signature blend by Snake River Roasters appropriately dubbed the "Ride for the Brand Blend." Chamber CEO Anna Olson thanked attendees with a brief speech and video celebrating the Chamber's work.

The final weekend of Old West Days saw the return of the annual Old West Days parade (in the rain of course), which featured 20 different float entries. Participants ranged from the American Legion presenting the colors to the Fair and Rodeo Royalty atop their well-trained horses. The first place prize went to Silver Dollar Inc., who's intricate float included a live performance from One Ton Pig and their famous swing dancers. Second place went to Bridger Teton National Forest and their pack mules and third place went to Teton County Fair & Rodeo Royalty.  
2022 Old West Days Parade Float Winners
First Place: Silver Dollar Inc.
Second Place: Bridger Teton National Forest
Third Place: Teton County Fair & Rodeo Royalty

The parade was followed in the afternoon by the Old West Days Brewfest, which featured over 20 local and regional breweries and cidermakers. They came from all over the Mountain West, including Idaho, Montana, Utah, and Wyoming. Attendees, with the purchase of a mug, were able to sample unlimited beer and cider, with food and family activities included, as well as music by local legend Bill Briggs and the Stagecoach band. The winner of the prestigious "Golden Boot Award" (a people's choice trophy) went to Stillwest Brewing.
2022 Old West Brewfest "Golden Boot" Winner
Stillwest Brewing

Sunday marked the closing of Old West Days with the Million Dollar Music Fest, now in its third year. The festival was headlined by two-time Grammy winner Travis Tritt, who treated attendees to his distinct voice, unique songwriting, and outlaw edge. He was supported by country music super trio Runaway June and southern rock outfit The Desert City Ramblers. 

The success of this year's Old West Days was not possible without the help of the community, volunteers, and the organizations and businesses who helped to make it all possible. The Chamber would like to thank all who attended and were involved and looks forward to hosting another Old West Days on May 17-27, 2023.