Join The Chamber!
Learn More About Us
Our Vision at the Jackson Hole Chamber of Commerce is to provide leadership to you and your business by improving the quality of life in a world-class destination renown for its vibrant economy, dynamic and welcoming community, and treasured environment. We fulfill our mission by championing the interests of local businesses, like yours, and enhance the prosperity of the year-round economic climate of Teton County.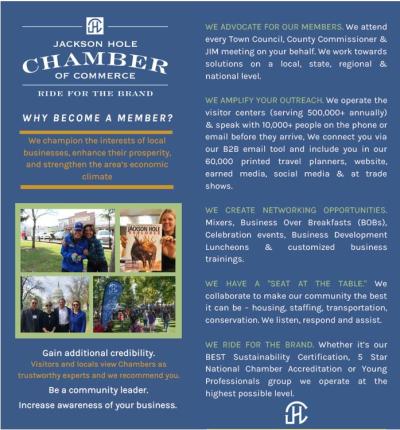 Learn more about the Chamber Staff, the 17 community leaders that make up our Board of Directors, and Chamber Committees. Get involved today!
If you'd like to proceed now to become a member you can do so, HERE.
Explore our website to get a deeper understanding of the value we can provide. The following are recommended pages:
We attend every Town Council and County Commissioner meetings to ensure we as the Chamber are knowledgable about relevant community issues and so we can represent our business members. Visit our Advocacy and Education page to view the positions we've taken on behalf of our members.  

We host regular networking events including, Business Over Breakfasts the first Thursday of the month from 7:30-9:00am. The program includes featured presentations on current affairs, new Chamber member introductions, and announcements. Our Chamber Mixers are held on Thursdays from 5:00-7:00pm. Attendees are welcome to drop in anytime during the two-hour event to learn about the host business or nonprofit, enjoy refreshments, and make new connections. 

And designed to increase business in the off-season, special events also contribute to the heritage of Jackson Hole. We are proud to hold the following successful events on an annual basis: Elk Fest (Mid-May), Old West Days (Memorial Day Weekend),  Shoot Out Gang (Memorial Day - Labor Day), Stage Coach Concession (Memorial Day - Labor Day), Jackson Hole Fall Arts Festival (September), Town Square Lighting (November), Santa on the Square (December).

Annually we publish 60,000 Explorer Magazines, the official travel planner of Jackson Hole, Grand Teton National Park, and Yellowstone National Park. Every member is featured in the magazine and there are opportunities to be more prominently featured as well.
Though there are many more benefits, visit our blog to keep your finger on the pulse of all things Jackson Hole and learn more.
For more information on joining the Jackson Hole Chamber of Commerce, please reach out to our Director of Membership, Casey Cochran at casey@jacksonholechamber.com