We've compiled the best free things to do in Jackson Hole. See if you can catch them all!
1. ALIVE @ FIVE
Hawks, eagles, owls, and falcons take center stage on the Teton Village Commons every evening on Wednesdays from 5-5:45 pm. Presented by the Teton Raptor Center, this up-close, arm's length learning experience with live birds is unique and can be enjoyed equally by kids, adults, and bird lovers alike! 
2. MORMON ROW SIGHTSEEING
Scenic and historical sightseeing! Today, two picturesque barns highlight Mormon Row. Settlers John and Thomas Alma (T.A.) Moulton built these barns on adjacent homesteads. 
How to get there: Drive north from Jackson on highway 191 past Moose Junction and turn right onto Antelope Flats Road. Follow the road about 1 ½ mile until you see a north-south running dirt road marked by a distinctive pink stucco house on the left with a small dirt parking area. There is a trail brochure and interpretive sign at the parking lot. Click for more scenic drives! 
3. FISH HATCHERY
The Jackson Hole National Fish Hatchery, initially established in 1950, is part of the Palisades Dam Cat to improve fish populations along the headwaters of the Snake River. Visit the Hatchery, open 8:00 am to 4:00 pm for some fishing or just a pleasant stroll and learn about the area's fish populations. 
4. BOULDERING AT SNOW KING 
Located at the base of Snow King Mountain, this free boulder park features three large boulder walls for all ages and skill levels. The boulder park, situated at the bottom of Snow King Mountain in Phil Baux Park, has sheltered picnic tables, horseshoe pits, lawn space, and a playground with swings and slides. Open to the public anytime.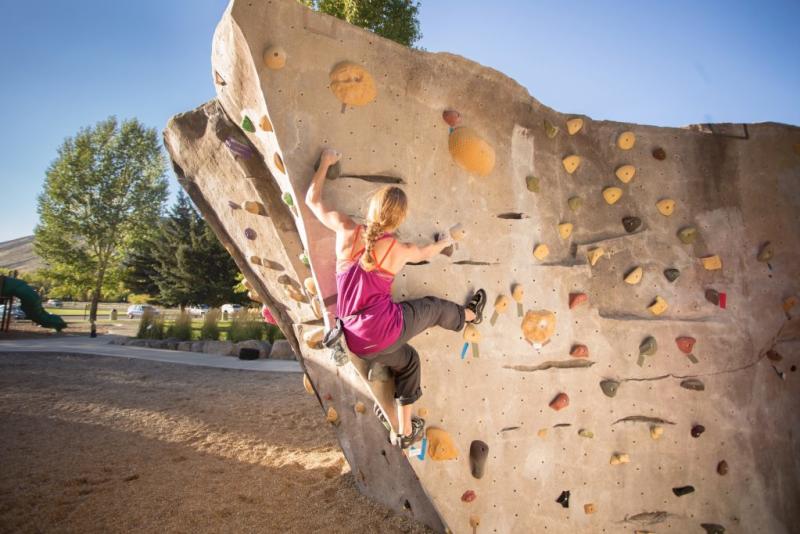 5. FARMER'S MARKET (SATURDAYS) AND PEOPLE'S MARKET (WEDNESDAYS)
For the first time in 12 years, the People's Market that runs 4:00 – 7:00 pm On Wednesdays through September 22nd will be on the grassy lawn at Center for the Arts. The people's market sometimes showcases up to 40 vendors. What can be found is fresh market goods and ready-to-eat food, even music. Learn more about The People's Market, put on by Slow Food in the Tetons, here.
The Jackson Hole Farmer's Market is Saturday's June 25th through September 24th, every Saturday from 8:00 am to 12:00 pm. Found among the vendors is Fresh food, flowers, market goods, coffee, you name it! View the full schedule here.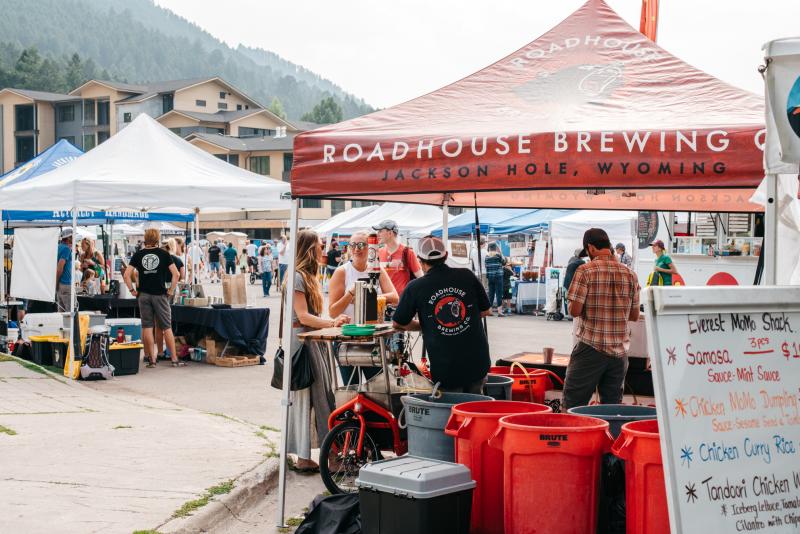 6. CONCERT ON THE COMMONS AT TETON VILLAGE
Join the Teton Village Association for free concerts on July 3rd & 4th, 2021, and seven more free shows July 18th – August 29th every Sunday at 5:00 pm. See the 2021 lineup here.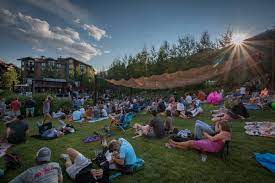 7. DISC GOLF AT JACKSON HOLE MOUNTAIN RESORT
Jackson Hole has a great disc golf course in Teton Village. The free course starts uphill from the bottom of the Gondola and begins short and technical, with tunnel and treed shots. It winds back and forth up lower Gros Ventre and Tramline, shooting in open fields and tightly wooded areas. Download the 2021 map.
8. VISIT RENDEVZOUS PARK
With 40-acres of extraordinary mountain views, levee access, walking trails, footbridges, a bicycle pathway, and access to slow and fast-moving water, R Park is an ideal place to gather with family and friends and connect with and appreciate nature. R Park is centrally located in Jackson Hole, Wyoming, at Jackson, Wilson, and Teton Village and is open to the public 7 days a week, year-round-- click for directions.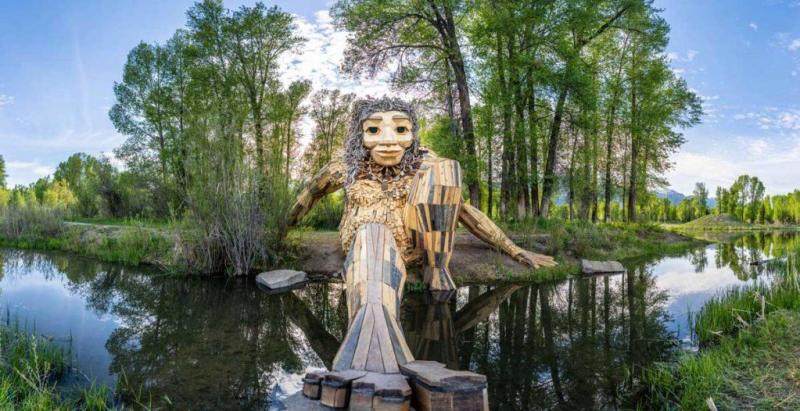 New to R Park this year is the giant troll installation named "Mama Mimi" by the artist Thomas Dambo produced by Jackson Hole Public Art.
9. TRAILS AND PATHWAYS AROUND TOWN
Jackson is home to an extensive network of bike paths and hiking trails easily accessed with minimal driving. Hiking and biking trails are brought to you by Friends of Pathways; learn more about pathways and where to access them here.
10. WILD WALLS MURAL WALK 
Jackson Hole Public Art and Artist have created 11 beautiful large-scale murals found woven throughout town. Stop by Center for the Arts, pick up a map, or click here and hit the streets to find your favorite Wild Wall. 
11. ENJOY JACKSON'S BEAUTIFUL PARKS
Jackson is home to many gorgeous parks in the town and further out along the snake river. There's nothing better than a relaxing afternoon on grassy lawns alongside big trees and rolling rivers. A picnic in the park may be the perfect way to spend time with friends and family. Some great parks in and around town include:
Phil Baux (Snow King)
Mike Yokel (east Jackson)
Miller Park
Powderhorn Park
Murie Park (north side of Jackson Hole Visitor Center building)
Emily Steven's Parks, and Snake River levee walk.
Photos courtesy of Visit Jackson Hole, Jackson Hole Mountain Resort, and Jackson Hole Public Art.