Lexey Wauters of Jackson Hole Mountain Resort shares her story in this edition of #humansofjhchamber.
Lexey Wauters Jackson Hole Mountain Resort Mountain Sports School Assistant Director was interviewed by Jackson Hole Chamber of Commerce Membership Director Elisabeth Rohrbach in October of 2017.
You're one of the longest standing Jackson Hole Mountain Resort employees. Tell us a bit about your time there.
I started out as a ski instructor and have now been here 34 years! I was hired here with some amazing legends like Jamie McIntosh, Chris Leveroni, and Jeff Zell. That was our little freshman class. I came from the east coast. I was living in Boston when I moved here.
It was the classic, "I moved here for one season." I didn't teach then. I was a bartender at the "Soj" [The Sojourner Inn], which doesn't exist anymore. It was where the Snake River Lodge and Spa is now. Back then a season's pass to Jackson Hole Mountain Resort (JHMR) was a discount card. You couldn't buy a pass, so you bought a discount card for $50 and that gave you $5 lift tickets. They worked most days, except there were some $10 days like Christmas and Presidents' Day. So funny. You still had to buy $2 Tram tickets. While the Tram then isn't the Tram it is now, it still held I think 45 people. It was amazing.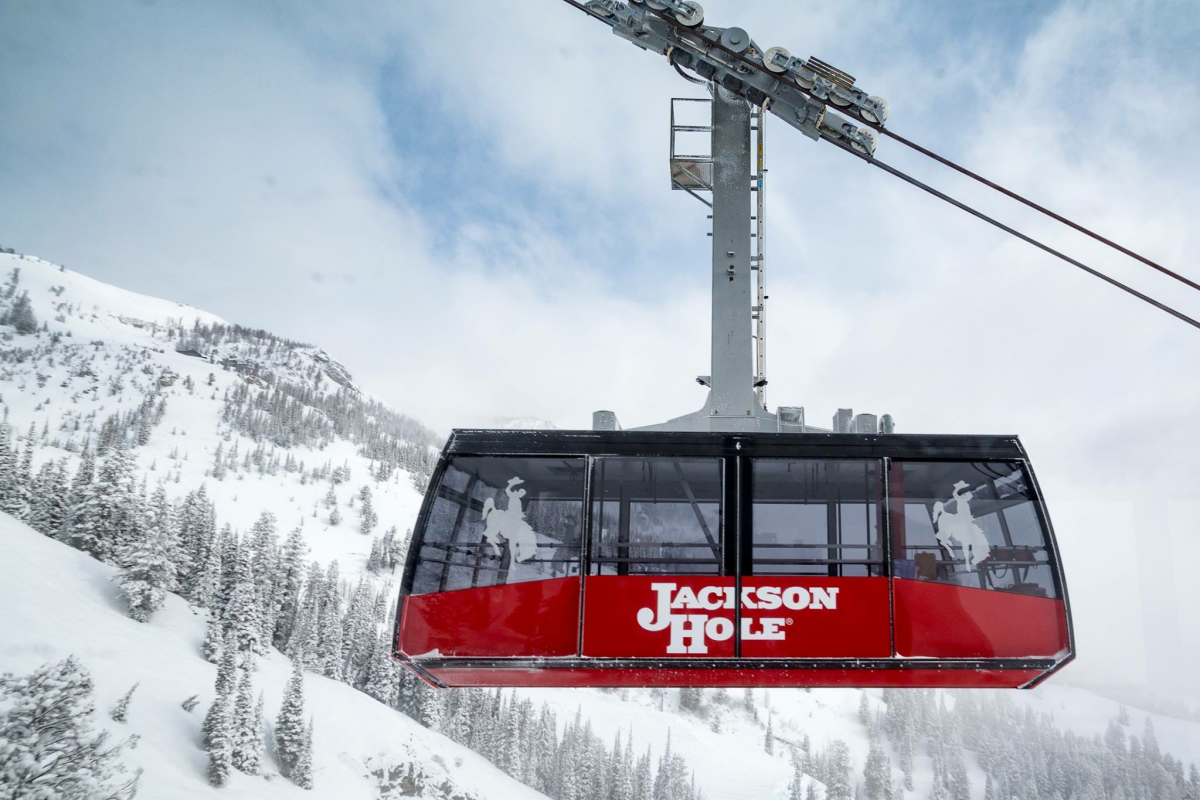 So, you planned to be here for one year. When did year two turn into three, and three to four, all the way to 34?  
Well I sort of backed in to the whole situation a little bit. I was teaching skiing and then went to graduate school and became a veterinarian. I started practicing and the first year I practiced I was in Hood River, Oregon for the whole winter. So I wasn't here. It's the one year since I started working at JHMR that I wasn't here for the winter. That winter my boss came to me and said, "you'd really be much happier if you were able to go back and ski in the winter, so how would you feel about a nine or ten-month position here?". I was like "Halleluiah! That sounds great!" The rest of my career as a vet I either took winters off or job-shared. I was always able to keep my foot in the pool here at JHMR because I loved doing it. And then I was here longer and longer. I really didn't love being a vet. And the opportunity to be a supervisor here came up and I thought, "you know what, maybe that's a great way to change it up." That was almost fifteen years ago.
I recall your being involved with the local nonprofit, Snake River Fund. Is that accurate?
So that was when I definitively left being a vet. I had served on the Snake River Fund board and we were just a small volunteer board running this tiny little organization and decided that we needed to hire an Executive Director to move things forward. So, I was the first ED. So I did that for five years. It was full time for six months and then half time during the winter, so I was able to still work at JHMR. Then, when the ED job grew and needed to be year-round, I thought, "but then I'd have to leave skiing!" So really, access to this mountain, and the tram, has guided most of my life decisions.
People talk about how JHMR has changed significantly over the years. Are there things that have remained the same or at the core?  
You know, people say that "Jackson Hole has lost its soul." You know "Save the Soul" and all that stuff. And I would say that's what is the same. The mountain itself obviously has remained the same and people's passion for this ski area in particular is the same. And I'm super lucky that I get to work with instructors and skiers from all over this region. I've spent time at a lot of the great ski areas, you know some of the really great, fantastic skier-oriented resorts. However, while there I never met skiers that are as passionate about their ski area as they are here, about JHMR. And at other mountains, there are of course passionate skiers, for sure, but they're not SO passionate as what you find here.
It's very much that. There's a pride—you're proud to be a ski instructor in Jackson Hole or a skier from Jackson Hole. I think that's definitely the same and I think the employees feel that same thing. You know you have folks who have been here for over ten years, really long. Or 20 to 25 years. Talking to people like Earl Ward who's head of grooming in the winter time. He does a lot of our big, heavy machinery driving. The guy has shaped this mountain, literally. He built the new Kemmerer run. So, there is this pride in this place that I don't think is duplicated in other ski areas.
Speaking of the Kemmerer run—we're so lucky…I mean it's almost cliché to say, but we're so lucky to have the Kemmerer family as our owner. Connie Kemmerer is a visionary. She looks around this place and envisions how it will look in the future. Helping people be in the mountain environment drives her. It's pretty cool. 
I got to go on a trip to Canada with Connie and a bunch of the other folks from here to look at via ferratas. We looked at Kicking Horse and North Cray outside of Banff. Connie just loved it. She was really the driving force behind our via ferrata.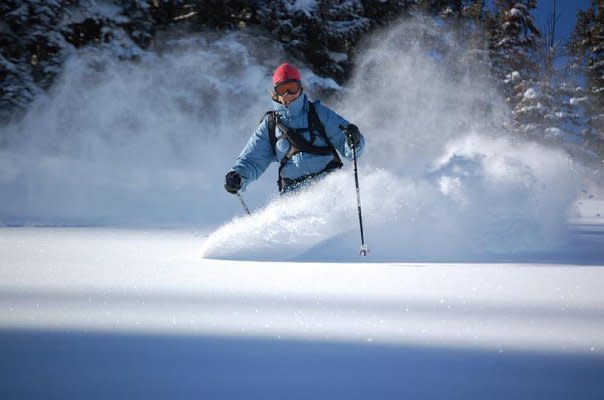 Jackson Hole Mountain Resort is so iconic. You have so many famous runs, amazing sponsored athletes, and incomparable footage. It's almost like an ethos. Is there a philosophy or code that speaks to you?
One of the clear messages the mountain carries is "we create memories" and "always an ambassador." The idea that every person who works here is always an ambassador for the ski area and Jackson Hole as a destination. Our core values include taking care of staff, taking care of guests, taking care of the environment, and prioritizing safety.
WORDS LIKE "AUTHENTIC," "GENUINE," AND "WILD" RESONATE FOR ME.
Will you expand upon these concepts of "we create memories" and "always an ambassador?"
I think that what we want - and this is a combination between me personally and the Mountain Sports School formally - is that we believe strongly that when someone comes here to ski they will have a better experience when they are with someone from the Mountain Sports School. Because the people here are that passionate about the mountain. They craft a day, a week, or a season for the visitors here, which is going to exceed what a visitor would accomplish on their own because we know the mountain inside and out.
What I love about this place is that I think the approach is always to help the experience be better, but to also help people gain more and more autonomy. I know that sounds sort of contradictory, like "why would we want to give people a lot of autonomy because then we teach ourselves out of a job, right?" But I don't think that's true. What the goal is, is to have people be more confident and to have more confidence as a skier – making their own decisions and having knowledge that they really know and can use.
THE INSTRUCTOR CAN GET THEM TO THE SPOT WHERE THE SNOW WILL BE GREAT, BUT THEN ALL OF A SUDDEN THEY CAN CHOOSE WHEN TO TURN AND WHERE TO GO AND NAIL IT AND HAVE THE BEST RUN OF THEIR LIVES AND THEY DO THAT.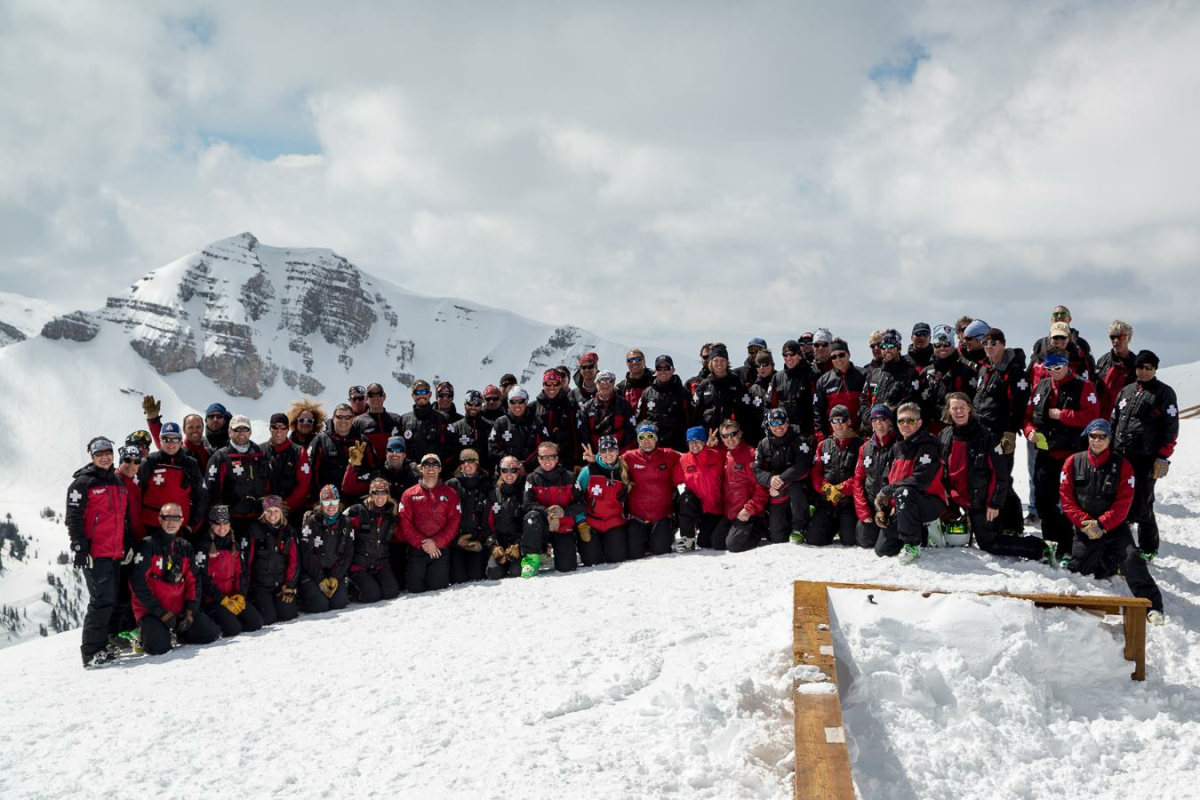 You watch really good skiers, you know what…not even really good skiers! Skiers that are having a really good time. And it doesn't matter if they're really fantastic—they're just out there leaving their signature on the snow.
What are some must-dos here at JHMR?
There are a couple of seasonal activities that we would really like people to experience.
This summer our via ferrata unlocked a new way of being on the mountain that is not available anywhere else in the country. It has opened up a different way of being in the mountains and a different was of experiencing this mountain specifically. And I think it's really pretty amazing.
In the winter time, being up at the top of the Tram on a big morning when it's weather up there and it's snowing and blowing and the energy is vibrating in waves off of people. It's probably the worst weather you'll ever be out in really. It's incredible.
IT'S SUCH A MOMENT OF "THIS IS WHAT ALL THOSE SKI BUMS LIVE FOR" AND IF IT'S YOUR FIRST TIME OUT THERE I THINK IT'S REALLY A BLOWBACK. YOUR EYELIDS ARE UPSIDE-DOWN. IT'S FANTASTIC. IT'S AN INDESCRIBABLE FEELING THAT MANY SKIERS LIVE FOR.
What's your favorite ski run?
SO EASY! Rendezvous Bowl. On a big morning, first thing. I love it. It's wide, it's…I love it. My favorite line is the little stubby trees that's skiers' right of the doiner.
What is on the horizon for JHMR?
We are working to message what is true and already exists and it is something I believe very strongly. This mountain a great place for families to experience. One of the most enduring things for me, having been here for over 30, is that there are kids here who I taught when they were five. I remember taking Kathryn up to the top of Rendezvous Bowl for her very first time. It was a powder morning and she did little powder edge turns straight down the fall line, nonstop. She had to have made 150 turns because she was so little. Her family has been coming here for thirty years. Now she and her brother bring their families. This generational piece about the people who ski here feels really special.
Watching our new instructors start to make those connections and create those bonds and grow up with families—it adds to the soul because those people get it.
Visit www.jacksonhole.com.
Jackson Hole Mountain Resort Opening Day for the 2019-2020 season is Thursday, November 28, 2019.
---
This story is a part of #humansofjhchamber:  The campaign places a focus on the faces of our local businesses and nonprofits. Learn about their inspirations, why they got started in their industry, and more! Find the Chamber on Instagram, @jhchamber. For information about the program, please contact Director of Membership, Elisabeth Rohrbach, elisabeth@jacksonholechamber.com or 307.201.2301.