Jackson is a very dog-friendly town! The following is your guide to pet-friendly restaurants, accommodation and activities.
Throughout these tips we will introduce you to the dogs of the Jackson Hole Chamber of Commerce team and where their favorite spots are...we hope you enjoy taking a quick "paws" to "meat" the team. We've bee nasked if our office is a doggy day-care. "No, we just know the pawsitive impact of well-behaved doggos in the workplace!" ;) 
First thing's first. Pet friendly accommodations: 
This is by no means an exhaustive list, but it's a good place to start.
Virginian RV Park, Grand Teton Lodge Company Colter Bay Cabins, Grand Teton Lodge Company Colter Bay Tent Cabins, Motel 6, 49'er Inn & Suites, Alpine House Lodge and Cottages (just in cottages), Antler Inn, Elk Country Inn, Cowboy Village Log Cabin Resort and Homewood suites by Hilton, Inn at Jackson Hole, Inn on the Creek, Mountain Modern Motel, Snow King Resort, The Hostel, Fireside Resort Jackson Hole, and Fireside Buffalo Valley RV Park.
Two designated pet-relief areas (mutt-mitts provided for your convience)

Therapy Dogs (Teton County Pet Partners have provided furry travel-stress relief)
---
"Meat" the newest member of our team, Waffle - 5 months, Golden Retriever, Favorite spot: Elk Feed Ground.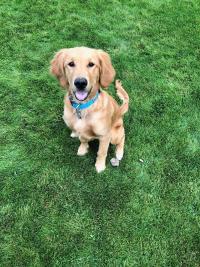 ---
Where to dine with your pup:
Keep your eyes open for restaurants with decks including Healthy Being Juicery, Hayden's Post, Hatch Taqueria, Bin22, Cowboy Coffee and The Bird. Bear in mind that dogs are not allowed inside most restaurants unless considered a service or companion dog.
---
"Meat" Carl - 9 years, Labrador mix, Favorite spot: Crystal Creek, Gros Ventre
---
What about shopping with my dog?
Many shops allow them to join you in purusing their treasures. Just ask. Of course, they must be well-behaved. And of course we have pet supply stores and grooming services! Teton Tails, Mountain Mutts and Big R Ranch and Home are a few.
---
"Meat" Micco - 1 year,  Australian Shepard Mix, Favorite spot: 3Creek Trail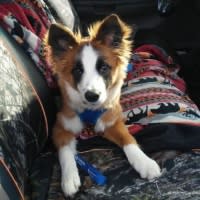 ---
Pets are not permitted in the majority of the country's national parks, however they are welcome on roads and in "barking" lots! That being said dogs are allowed in the National Forests - Gros Ventre is a favorite. The following map created by PAWs of Jackson Hole is a life-saver (double-click for a larger version):
---
"Meat" Leela - 10 months, Anatolian Shepard/Beagle (rescue mix), Favorite spot: Slide lake, Gros Ventre and the Roadhouse Brewery (Andy gives her treats)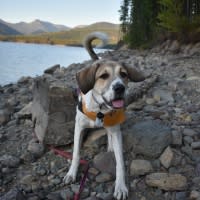 ---
Where can I leave my dog while I adventure?
Jackson Hole has great dog dayboarding including DogJax and Happy Tails. 
---
"Meat" Lizzie - 13 years, Yorkie,Favorite spot: In her earlier years; Josie's Ridge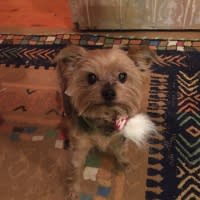 ---
On Pathways, In Town: Dogs must be on leash

On Pathways, Out of Town: Off Leash, under voice control

Always scoop the poop! Trails with pet waste could lose their designation as a pet-friendly pathway or park

Always carry a leash, which helps protect your pet from dangerous wildlife and fast bicycles

Teach your dog to calmly exit your vehicle. Many trailheads have busy traffic and/or blind corners

If you encounter another user on the trail (biker, skier, jogger) please yield to the other user. Pull your dog off to the side of the trail in a heel position until the other user has passed

Never allow your dog to chase wildlife
---
"Meat" Juanita - 9 months, Black Lab, Favorite spot: Levee by the Snake River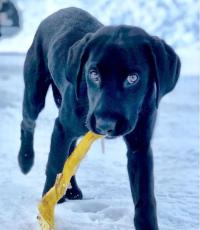 ---
Might your dog be sick?
Have no fear, Jackson is home to fantastic vetrinarian care including the Jackson Hole Animal Hospital and Spring Creek Animal Hospital.
---
"Meat" Rudi - 12 years, Australian Shepard, Favorite spot: Goosewing Ranch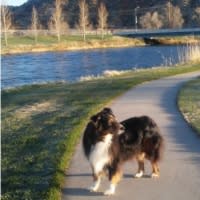 ---
Wish you had a dog? Or miss your dog and need to give some pets and scratches? 
The Animal Adoption Center has multiple dogs (and cats!) every day. Not only are they up for adoption, but they need to be fostered overnight, walked and even just loved! Pop on in to lend a hand.
---
"Meat" Avalanche - 3 years, Golden Retriever, Favorite Spot: anywhere with mountains and clear creeks.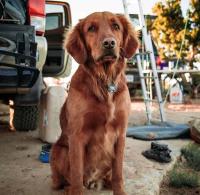 ---
If you have unanswered questions about bringing your dog to Jackson Hole give our Visitor Centers a call at (307) 733-3316 and our Visitor Service Agents will do their best to help you.